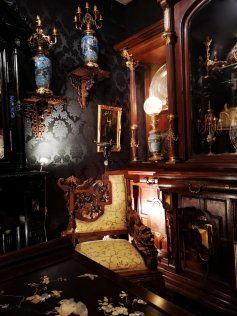 Several stands at Paris Saint-Ouen fleamarket propose furniture. Antique dealers specialised in period furniture and designer furniture offer a wide choice of furniture to equip the home, from the living-room to the balcony, from various periods and styles.
Type of furniture at Saint-Ouen fleamarket
You can find furniture from every period and design. Rare furniture, collectibles or more general furniture are presented on the stands and at specialised antique dealers.
You can buy : design desks, old-fashioned desks, chairs, armchairs, stools, tables, coffee tables, nesting tables, turn tables, chestof drawers, sideboards, shelves, dressing tables, counters, bookcases, bars, wardrobes, beds, etc.
You can find garden furniture also such as fountains, outdoor chairs, wrought iron patio furniture, old style garden furniture, benches…
Those who love refined style and modern lines, will be be leased to find scandinavian furniture and industrial and craft furniture at Paris St-Ouen fleamarket.
Period furniture at Saint-Ouen fleamarket
Specialised and general furniture stands at the Paris fleamarkets propose furniture from Haute-Epoque furniture (Middle-ages, Renaissance and 17th century or furniture refering to these periods) to contemporary furniture. You will find old furniture and furniture inspired by Renaissance, Gothic, Chinese, Japanese ancient styles or Italian barocco. Old marquetry armchairs finely crafted, desks, drawers, console…
17th and 18th centuries furniture at fleamarket
La Maison du Roy (Alley 5, Stand 1 & 2, Serpette market) is an 18th century specialist presenting French and Italian barocco objects from 17th and 18th centuries. You can also find objects and old furniture from Louis XV and Louis XIV periods.
Furniture from 19th century at Paris fleamarkets
Empire style, a decoration and furniture style in fashion from 1803 to 1821, that follows the "Directoire" style.
Restoration style began around 1820 and lasted during Louis Philippe and Charles X reigns.
Discover the second Empire style (second half of 19th century) with specialised stands in furniture and objects of Napoléon style : Laurent Vanlian (Alley 1, Stands 38 & 39, Serpette market) and William Antiques (Alley 1 Stands 8 & 11, Serpette market).
Furniture from 20th century at Paris St-Ouen fleamarket
Furniture from 20th century: the Roaring Twenties (1900-1920), Art nouveau, Art Déco furniture, 40's-50's, Design from 50's-60's, 60's-70's Design, 80's-90's Design, brutalist furniture.
Les Dioscures (Paul Bert market, stands 405 & 407, alley 7) is a stand specialised in post-war furniture. It is specialised in Portuguese furniture from 60's and 70's, French and Italian 60's lights (Stilnovo, Fontana Arte, Gino Sarfatti, Lunel) and armchairs from 50's & 60's.
The stand Remix Gallery (Paul Bert Serpette market, alley 6, stand 234) is specialised in objects and furniture from the 80's. It sells furniture and objects by famous designers such Philippe Starck, Andrée Putman or Jean-Michel Wilmotte.
Marie Bonnet is a specialist from the 20th century. Her stand is located at Biron market (galeries 62, 62bis & 66 - alley 1). She proposes furniture and objects from 20th century, in particular from  50's, 60's et 70's: brackets, design desks... and a lot of pieces by Maison Honoré.
Restore your furniture
Specialised craftmen can be found in the Paris fleamarket who can restore the furniture you have just bought or your family furniture. They also work with professionals, museums, puciers and antique sellers.
Richet Rossert d'Art et cuirs (Dauphine market, stand 37, art.et.cuirs@free.fr) is leather artisan and gilder. He restores leather parts that sometimes compose furniture such as he  top of a weiter's desk or old desks, or chair-seats - design or Art Déco. He reproduces ornements that embellish the leather and gild tham with hot gold. He works with professionals also: antique sellers, luxury establishements, museums, etc.).
L'Atelier du vernis (varnish workshop) sublimates the wood tint with varnish on your old furniture. Specialised in stamp varnish, Pascal Mendeze varnishes furniture and little wooden objets. He is also a cabinetmaker. His workshop is located at the 13 rue Mathieu, 93400 Saint-Ouen (pascal.mendeze@free.fr).
In the same street, you will find Fabrice Gardillou's woodcraft stand (restauration.mobilier@gmail.com). He often collaborates with L'atelier du vernis. His specialty is the restoration of furniture from 17th and 18th centuries.
How to maintain old furniture
Wood demands to be maintained and each wood essence needs particuliar care for each kind. It is best to ask a specialist for advice regarding cleaning and maintenance of your old furniture.
Duguay products (92, rue des Rosiers - 93400 Saint Ouen) sells numerous products to maintain furniture and art objects : varnishes, gold plating, marble).
Furniture designers at Paris fleamarket St-Ouen
The Paris fleamarket presents contemporary creations also. A few artisans can be found at the St-Ouen fleamarket to produce and sell their own creations. An example is that of Aviationspirit that proposes furniture made from parts of a plane.