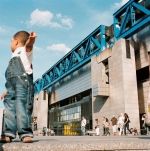 La Villette is an authentic playground dotted with exciting activities for children to potter around on the lawn in the park, to go cycling, to roller blade safely and also to enjoy and discover the various themed facilities available.
Touch and Build
Located in Cité des Sciences, split into two distinct exhibitions (2-7 years and 5-12 years), Cité des enfants is an adventure playground designed to awaken children's curiosity with: water games, a maze, construction work with wheelbarrows, small trolleys and a variety of rich and diverse interactive games to be explored for over more than one hour.
Children's Philharmonic... long live music
The Philharmonie de Paris has a play area for children from 4 to 10 years old around the theme of music. What is sound, try to become a conductor, play with your "voice", etc. In short, a playful place indoors and therefore open all year round!
Workshops in the park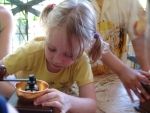 Many workshops are proposed for subscribers throughout the year in the "red pavilion" follies of the park dotted with various themes: circus, dance, food catering, water activities… Children listen carefully to the coordinator, touch and experiment and test their abilities and senses while having fun.
Free outdoor games
For a breath of fresh air on a sunny day, go to l'Aire de Jeux des Vents to follow the different trail and activities centered on games: jumping on air bags, flying on a zip-line, playing in the sandpit…Time flies by when having fun! Children can aslo climb a huge steel dragon near the Cité des Sciences.
Other activities and places to visit with children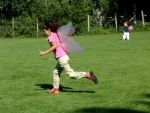 A simple walk in the park will soon reveal that there are many ways to have fun and access to educational activities with children: outdoor games on the lawn with the sacrosanct "foot" ball, a picnic on the lawns or near Canal de L'Ourcq, walking trails, roller blading or biking in the park (canal de l'Ourcq cycling track runs through Parc de la Villette). Do not miss the equestrian center of La Villette for horse and pony riding lessons open on Sunday afternoon or also the nice old fashioned carousel. Do not miss the year round activities or exhibitions at Philharmonic, Cité de la Musique or Cité des Sciences devoted to children.
More activities for children:
Outdoor activities with children
Planète pilote at Musée de l'Air 
Or the activities during school holidays and family-friendly activities in Paris.