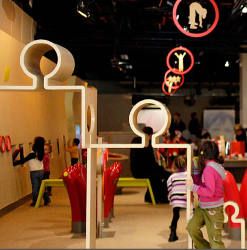 An emblematic venue since 1992, Cité des Sciences remains for parents the place that always brings a considerable frenzy among children : finally a site where one can touch, manipulate, filled with wonder and why not meet new friends too.
Cité des enfants is now divided into two sectors :
The objective is to give toddlers a means to express themselves, to discover with their parents playful activites leaving thus the other spaces to older children to be able to play games adapted to their age, to experience more autonomy.
While waiting for the magic hour to gain access to children's city, you will be lined up with plenty of kids of all ages waiting in hope repeating ... "when is it our turn ?".
Practical Information
Cité des enfants Paris La Villette is open from Tuesday to Sunday and closed on Mondays. It operates through 1h30 or 1h15 sessions (during the Christmas school holidays and Thanksgiving). Children must be accompanied by an adult. Cité des enfants is trilingual : French, English, Spanish.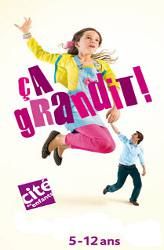 Timetable (may be subject to change)
Sessions begin at 10:00, 11:45, 1:30 and 3:15.
On Week-ends, sessions begin at 10:30 a.m., 12:30 a.m., 2:30 p.m. and 4:30 p.m.
Pre-reservation is highly recommended !
Tips for the Cité des Enfants
Book your session - especially during week-ends and during French school holidays – by phone or directly via the reservation system on the Cité des Sciences website.
 
Respect your booking time as the sessions start on time and have a limited duration and it will not be possible to « extend » your session if you are late.
 
A cloakroom is available for your personal belongings, it is free on presentation of your ticket. This will allow you to move freely and not lose your personal belongings (the cloakroom is on level 0 for individuals - level -1 for groups).
 
Cité de la Villette provides baby changing facilities in the restrooms.
 
Wheelchairs are available for disabled person on presentation of ID.