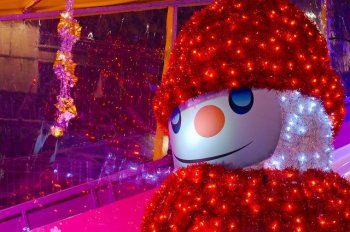 Now that december has started, the Christmas spirit is fully established. Joy is also in the alleys of Seine-Saint-Denis's christmas markets! They are perfect to find presents, drink hot wine (with moderation), eat a waffle or a pancake or just walk around and have fun with your family.
Montreuil, the oldest christmas market of the parisian area
Montreuil's christmas market , which is held between the 4th and the 8th of December 2019! Diverse workshops, stands, music shows and exhibition-sale are proposed.
A committed Christmas in Bobigny- Buy some « made in Seine-Saint-Denis »
Several creators will hold their stands in the Pavillon building (conference room) of Bobigny between 11 am and 4 pm in thursday the 6th of December and Friday the 7th 2018.
Madame Chat, Ré-active, Tes p'tites Mains, FaSol, Femmes Actives, the TAC community, Tricot Partage, Prune Lion, Halie M…They will all show you their creations in which you may find a christmas present. Why not ? It would really be original !
Savoir-Faire christmas fair
Like each year Saint-Denis organizes the savoir-faire christmas fair for solidarity from Friday the 14th to Sunday the 23rd of December 2018.
Christmas in Saint-Ouen's Flea Market
Don't miss going passed St Ouen's Flea Market on mondays and during the weekends to bargain treasures as christmas is getting closer. For example, you can go to the Paul Bert Serpette special christmas market. If you can't go to the Flea Market, you can still check out rare objects on their Ebay website.
Christmas Market and funfair at La Villette
Starting from the 14th of December 2019, you'll be able to have fun thanks to the various activities (about 60 attractions) of Jour de fête à La Villette that will take place on the square of the Lion fountain and the Grande Halle until the 5th of January 2020. Entry : 2¤ to 10¤.
Christmas in Paris 19th at Pavillon des Canaux
A christmas market will be held at Pavillon des Canaux in Paris from 10 am to 7 pm on the weekend of the 14th and tthe 16th of December 2018.
On Investit Les Lieux (OILL) in the 10th arrondissement
For christmas, artists and creators will occupy the space of Canal Saint-Martin the 6th, 7th and 8th of December 2019 thanks to the OILL market. (Text in French)
Pantin's creators christmas market
The craftmen of Pôle des métiers de l'art  and Maison REVEL will hold their christmas market between the 7th of December 2018 and the 9th.
Christmas market of the Pré-Saint-Gervais
It will open at 9 am on the 9th of December 2018 until 7 pm in the hall of the covered market (rue André Joineau et Anatole France). You'll find festive objects (wine, champagne, craft objects, jewellery, clothes…). Free activities for children will also be proposed.
If you like christmas songs, you'll enjoy the christmas concert in Eglise de la Sainte Famille on the friday 14th of December.
La Fabu christmas market in Montreuil
La Fabu, which is the restaurant of the Méliès cinema that proposes handmade food with fresh products for all tastes and all prices, will organize its own christmas market during the afternoon of the 15th of december 2018.
Find the perfect present and decoration idea for christmas !
Big malls like Rosny 2, the Millénaire, Aéroville or Domus are open every Sundays during December. If you're looking for an original present, you can also go and check the Saint Ouen Flea Market (For all tastes and all prices).
You need to have a break ? Have something to eat in the restaurants of the flea market district that offer a large choice : old and authentic one like the Picolo or La Chope des Puces to chic ones like Ma Cocotte.