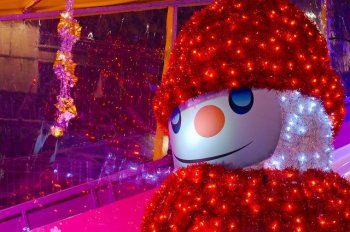 Now that december has started, the Christmas spirit is fully established. Joy is also in the alleys of Seine-Saint-Denis's christmas markets! They are perfect to find presents, drink hot wine (with moderation), eat a waffle or a pancake or just walk around and have fun with your family.
This page is regularly updated but for safety reasons, please consult the official website of the City Hall before moving.
Date of the Christmas window illumination in the department stores in Paris
Christmas windows 2022 in Paris
The Galeries Lafayette Christmas begins on November 17th, 2022 + illumination of the tree.
La Samaritaine lights up its Christmas window from November 8th, 2022.
BHV opens its Christmas windows from November 9th, 2022 (rue de Rivoli).
Bon Marché Rive Gauche celebrates Christmas from October 28th, 2022.
From November 9th, 2022: Printemps' 2022 Christmas windows. (Paris 9e)
Bercy Village offers you a luminous umbrella alley! From November 17th 2022 to 4th January  2023.
Illumination of the Champs Elysées
The Champs-Elysées will be illuminated from November 20th, 2022 to January 2sd, 2023 from 5pm to 11am (and all night on December 24 and 31, 2022)
Christmas in Paris 19th at the Pavillon des Canaux
From Saturday November 26th to Sunday December 18th 2022 at the Pavillon des Canaux in Paris four themed Christmas markets: 1 market per weekend). 
26 and 27 November 2022 + 3 and 4 December 2022 + 10 and 11 December 2022 + 17 and 18 December 2022 
Christmas at Gare de l'Est - Paris
From November 30th to December 16th, 2022 opening of the Alsatian Christmas Market. It is as usual installed on the square of the Gare de l'Est.
Christmas market in Paris Tuileries
Visit the Jardin des Tuileries (Paris 1st - place de la Concorde) from November 19th, 2022 to January 8th, 2023 for the Christmas market, animations and ice rink.
Christmas markets in Paris - Hasard Ludique in 2022
Three Christmas markets are proposed on this place ! Rv at 128 av de Saint-Ouen 75018 Paris.
The market "Ubuntu" the weekend of December 3th and 4th 2022 (African culture)
The  market ""By the Gros Marché"- Sunday, December 18, 2022 
The Christmas market made In 18e - Sunday, December 11, 2022 (creators of the 18th district)
The Christmas eco-villages at the Recyclerie de Paris 18e
From December 3 to 18, 2022 the markets will be open on weekends from 12pm to 8pm.
December 3 and 4, 2022: "Noël Où est le beau ?" market
December 10 and 11, 2022: Shorba Market
December 17 and 18, 2022: the eco-feminist Christmas village
Rv at 83 bvd Ornano - 75018 Paris
Christmas markets in Montreuil
Many Christmas markets and creators' markets take place before the holidays in Montreuil.
> Christmas market : Meet us on Friday, December 9, 2022 from 2pm to 8pm in the Jardin-Ecole of Montreuil for a small outdoor Christmas market with local artisans and creators ...
PENDING 2022
See you on Saturday, December 4, 2021 between 11am and 6pm at Croix de Chavaux (market square). Nearly 80 stands, music and small food will be proposed.
The Association Comme Vous Emoi and Taga propose you a creators' market on Sunday, December 5th, 2021 from 2 pm to 8 pm. Rv at 5 rue de la Révolution, 93100 MONTREUIL (Metro line 9: station Robespierre/Croix de Chavaux). Creators will offer you original and unique gift ideas.
Christmas markets in Pantin
Christmas at the Cité Fertile in Pantin 2021
Christmas market 2021 in Pantin -La Cité Fertile From November 27 to December 19, 2021 (Saturdays and Sundays) thematic Christmas markets focused on the Environmental, Social and Solidarity Economy are held at the Cité Fertile - 14 avenue Edouard Vaillant in Pantin - 93.
November 27 and 28, 2021: The Japanese Christmas market
December 4 and 5, 2021: Paris Night Market
December 11th and 12th 2021: Low Carbon and the creators of the OPAZ workshops
December 18 and 19, 2021: The gros marché (vintage objects and clothes)
The artisans of the other markets will also propose products on the online site.
Christmas in Saint-Denis
Foire des Savoir-Faire in December 2021
The Foire du Savoir-Faire 2021 will be held from Saturday, December 11 to Monday, December 20, 2021. See you as every year at the Foire des Savoir-Faire in St-Denis.
Waiting if renewed for 2021 : An ice rink will be installed from December 12 to the end of the year 2020 on the square of the City Hall of Saint-Denis but also... a mini-farm?
Bel Hiver - St Denis 2022
It's in progress... but the Bel Hiver in Saint-Denis should open its doors between December 15 to December 24 2022 from 10 am to 11 pm. Craftsmen, animations, ... will be present during nearly 2 weeks of festivities. Some ideas of animations: a carousel on the Victor Hugo place, a carousel like flying chairs in the Pierre de Montreuil garden, a sled in
Find the perfect present and decoration idea for christmas !
Big malls like Rosny 2, the Millénaire, Aéroville or Domus are open every Sundays during December. If you're looking for an original present, you can also go and check the Saint Ouen Flea Market (For all tastes and all prices).
You need to have a break ? Have something to eat in the restaurants of the flea market district that offer a large choice : old and authentic one like the Picolo or La Chope des Puces.