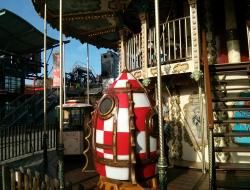 Carousel Jules Verne is an old cute carousel ride for children, open all year round, located in the Parc de la Villette in the 19th arrondissement of Paris.
Do not wait for fun-fairs to ride on wooden horses or on transport coming straight out of Jules Verne's imagination: airplanes, space rockets, balloons, tramways, vehicles of your dreams, there are a dozen choices of vehicles and wooden animals to ride in this magical ride on two levels. The Jules Verne Carousel is open to children from two years old, and for smaller kids accompanied by their parents.
The carousel is located close to the banks of Canal de L'Ourcq, La Villette playground and La Villette "Grande Hall" near the restaurant My Boat. It is open every day from Monday to Sunday (except on bad weather days).
Beside the carousel, there are two other stalls: a fishing stand « hook a duck » and a funfair refreshment stand for drinks, chichis, waffles and other sweet things that appeal to both young and old.
Where is Carrousel Jules Verne, merry-go-round in La Villette located
To get to the carousel: From Porte de Pantin subway station - walk alongside the great hall on the left via La Villette gallery; From Porte de la Villette subway station via Cite des Sciences, go through La Villette gallery and cross the Canal de l'Ourcq.