Cité des Enfants - La Villette: Junior playground from 2 to 7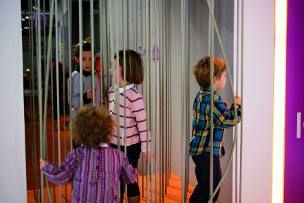 The Cité des Sciences Paris la Villette and junior space specially is a magic place where children can go from experiment to exploration! 'Cité des enfants' from 2/7 years proposes recreational and educational activities in five different spaces: I discover, I know how to make, I find a way, all together, I experiment.
The first themes are based on the development of the child, his physical, cognitive and spatial faculties. The different themes suggest opening oneself to the other (to learn and understand the environment surrounding the child).
© EPPDCSI/S.Expilly
Activities for children from 2 to 7 years old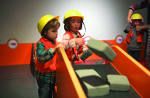 For mechanics and construction: go to the construction site zone with cranes, wheelbarrows, wagons and bricks or go to the workshop to repair a car - fascinating!
A small maze allows them to get lost but do not panic 'everybody manages to get out' ! 
© EPPDCSI/S.Expilly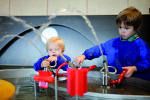 A small ball is projected on a water jet, the children direct the water jet to touch its target!
The exhibition is permanent, the activities do not change but they are approached differently by the child according to his age at the time of his visit. The children must be accompanied by an adult who can help them, play with them or let them experiment. The activities are free but it is recommended to choose 2 themes at the most. Take time to have fun there, to stay with your child rather than trying to do everything !
Don't forget - Space Junior 2/7 and 5/12 years old
Reserve, especially at weekends and during French school holidays
Respect the reservation schedules
Deposit your affairs in the cloakroom at level 0, it is free on production of your tickets
Older children?
If you have older children who have teen centres of interest, check our page about activities to do with teenagers in Paris.
Opening days - Cité des Enfants!
Open from Tuesday till Sunday and closed on Mondays
During the week the sessions begin at 10:00 am, 11:45 am, 1:30 pm and 3:15 pm.
At the weekends the sessions begin at 10:30 am, 12:30 am, 2:30 pm and 4:30 pm
Price : 12 ¤ per person -  Do not forget to book your places for Cité des Enfants 2/7 years!
Renovation in 2026/2027 of the 2/7 year-old children's play area!
It's a long way off, but it's worth remembering! The Cité des enfants for 2-7 year-olds will close for renovation in April 2026, reopening in 2027.
The section dedicated to 5/12 year-olds will close its doors in spring 2024 for renovation work, with a view to offering new activities when it reopens in April 2025.
---
Information
Museum of Science and Industry at La Villette - Paris (plan, transport,....)
Métro line 7: Porte de la Villette brings you directly to Cité des Sciences, la Géode
Bus 139, 150, 152, 249 : Porte de la Villette, Cité des Sciences et de l'Industrie 
---