Cité des enfants - La Villette: playground for kids from 5 to 12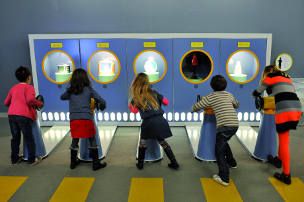 Junior space for 5 to 12 years at Cité des Science Paris La Villette is an amazing play area. The children know that they are going to test funny and serious experiments.
For this age group we approach the themes of : the body, communication, to be in a Television studio, to learn and to play games with water, to discover the garden and its curious residents without forgetting the cardboard box factory.
© EPPDCSI/JP. Attal
What to discover at the Junior Space from 5 to 12
A space which makes the children run a very short distance to know their speed - naturally each child wants to prove that he is the fastest !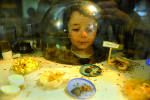 Will you dare to venture into the ant-hill? Some children rush into the tunnel without any hesitation and are amazed to discover the life of ants hidden there but some children are afraid… but there is no reason to be afraid the ants are well locked in! There are, however, many children in the tunnel!
Water games ! Use the pump to fill an immense ball which has to roll over, pump further to make the water go up - in short, it is a physical exercise but which has its fans!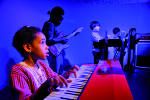 The TV studio set is an activity where there are a lot of people because WHO, "at this age, does not to want to be in the limelight and to imagine himself famous ! To be behind the camera or to be on the set?
© EPPDCSI/JP. Attal
Speak through a maze of pipes and hear your friend on the other side! How to understand this surprising phenomenon!  murmur a sentence and on the other side, the other person hears everything in spite of the funny twisted piping.
Make a cardboard box with an industrial machine….. Go into the butterfly greenhouse; in fact there are activities for everybody.
 Playground map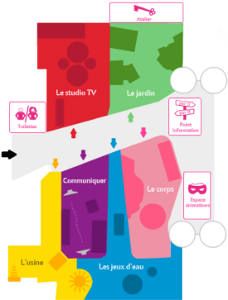 Junior Space of 5-12 years is organized around a central street surrounded by different theme spaces.
The coordinator informs you about the exhibition and the activities on offer, he recommends that you organize your visit according to what you would like to do.
In every session there is a show where science and culture come together (duration 20 minutes)
Don't forget
Reserve, especially at weekends and during French school holidays
Respect the reservation schedules
Deposit your affairs in the cloakroom at level 0, it is free on production of your tickets
Schedules and opening days of Cité des Enfants!
Open from Tuesday till Sunday and closed on Mondays
During the week the sessions begin at 10 a.m., 11:45 a.m., 1:30 p.m. and 3:15 p.m.
At the weekends the sessions begin at 10:30 a.m., 12:30 a.m., 2:30 p.m. and 4:30 p.m.
Price: 13 ¤ per person for children  - Ticket includes admission to the Argonaute submarine subject to availability
Do not forget to book your tickets for Cité des Enfants 5/12 years old! 
Renovation work between 2024 and 2025
The Cité des enfants for 5-12 year-olds will close in spring 2024 for almost 1 year. This area should reopen in April 2025. The space for 2-7 year-olds will be open during this time.
---
Information
Museum of Science and Industry at La Villette - Paris (plan, transport,....)
Subway - line 7: Porte de la Villette brings you directly to the Cité des Sciences, Philharmonie de Paris
Bus 139, 150, 152, 249: Porte de la Villette, Cité des Sciences et de l'Industrie 
Tram: T3b (Porte de Vincennes – Porte de la Chapelle) Porte de la Villette 
---