Hiking trail along the Canal Saint-Denis
PR2 is a hiking trail going through the cities of Saint-Denis and Aubervilliers and longing the Canal Saint-Denis. It will take you 1h30 to cross this marked out path (about 3 miles), starting from the 19th arrondissement of Paris.
Hiking trail starting from Porte de La Villette
How to access the hiking path trailhead from Corentin Cariou station (Line 7): take avenue Corentin Cariou, go to the canal and go down to the quai de la Charente on the left then take quai de l'Allier and then quai Gambetta.
Follow the Canal Saint-Denis on quai François Mittérand and walk along the second lock called "écluse des quatre-chemins". You can admire street art paintings on your way.
Go on quai Jean-Marie Tjibaou.
Keep walking on quai du Canal by longing a new lock. The Stade de France will be on your left.
Once you reach the footbridge, turn on the right on Cours du Ru de Montfort, turn left on avenue Leroy des Barres and take a right on avenue Jeanne d'Arc to the Légion d'Honneur park.
Cross the Légion d'Honneur park by the left.
Once you leave the park, cross rue Pinel to go to rue Haguette and turn right on rue de la Légion d'Honneur, turn left on rue des Carmélites, turn right on rue Gabriel Péri to rue de la Boulangerie and keep walking on rue du Cygne to get to the tourism board. You will arrive at the basilica to visit the crypt and the reassembly of the Saint-Denis spire.
Map of the Canal Saint-Denis trail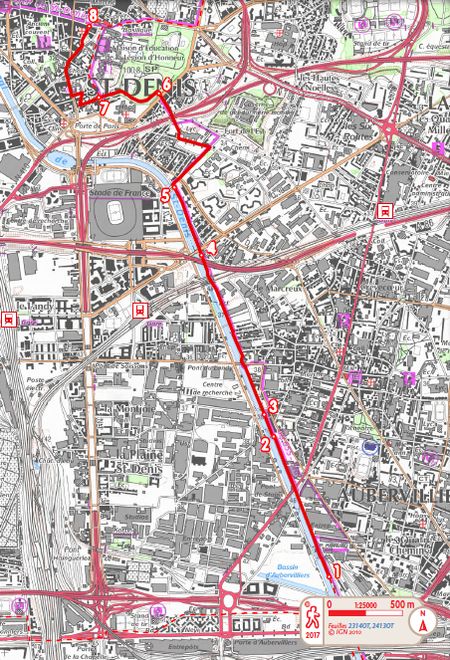 Other rambling paths: Georges Valbon Park.
Book your Paris guided tour