GR655 Saint Jacques de Compostelle in Seine-Saint-Denis
The GR® 655  Saint-Jacques de Compostelle runs through Seine-Saint-Denis and is a prolongation of one of four major pilgrim routes (voie du Puy, de Vézelay, d'Arles et de Tours) to Saint-Jacques de Compostelle. The itinerary, both urban and forest concentrated, allows you to discover the architectural, patrimonial and environmental heritage of Paris's area.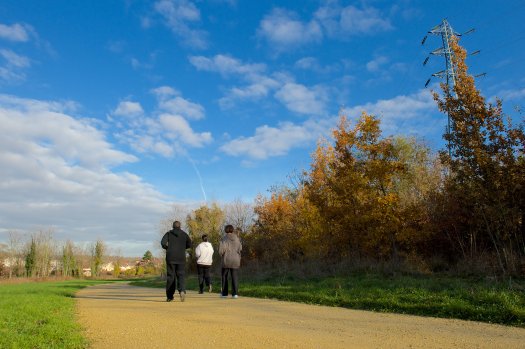 Butte Pinson park © AEV
Start at Butte Pinson, GR® coming from Val d'Oise, follow the Sente du Poteau, the Sentier de la Demi-Lune the Reservoir, rue de la Butte Pinson, the Sentier du Bois de Richebourg to arrive at rue Lénine, Pierrefitte City Hall.
Take avenue Lénine, turn left onto avenue Potier.
Follow the Sentier Malassis à l'Ascension on the right, on exiting the tunnel, turn left onto avenue Maurice Utrillo and follow the Sentier des Cailloux. At the end of the path turn right onto rue d'Amiens, follow rue Jean Durand on the left and then rue Victor Hugo on the right, rue Léon Gounod and avenue Paty. You are in the heart of Stains's 'cité-jardin' – garden city.
At Marcel Pointet square turn left onto Paul Vaillant Couturier and after turn right on to avenue Louis Bordes, rue Albert Einstein. Cross over avenue de Stalingrad and follow the road on the left hand side up to the entrance of Parc Georges-Valbon. Follow the markings in the park.
From the Pont des Iris (bridge) go towards the Roseraie – rose garden, then turn right at the Porte de Marville, cross Boulevard Maxime Gorki to take avenue Romain Rolland opposite.
Turn right onto rue Jacques Vaché and then left onto promenade de la Vieille Mer, square Sevran and parc Marcel Cachin. Cross the avenue to go left onto avenue Lénine and then right onto avenue de Strasbourg.
From the Tourist Office follow rue du Cygne, rue des Boucheries and turn right onto rue de la Boulangerie, rue Gabriel Péri, the musée d'art et d'histoire and its garden. Turn left onto rue des Carmélites and right onto rue de la Légion d'Honneur and left again onto rue Haguette.
Cross through the park to exit in front of avenue Jeanne d'Arc, take this road and then turn left onto avenue Leroy des Barres. Turn right  at Cours du Ru de Montfort up to place du Franc-Moisin.
Street-art avenue, on the two banks of the Canal Saint Denis. Keeping left, stay on the Canal banks until Paris and parc de la Villette. Follow the markings for GR®655 in Paris to arrive at the Tour Saint Jacques.
Book your Paris guided tour