Rambling through Livry-Gargan
This short hiking path (2h30 - about 5 miles) will lead you to the streets of Livry-Gargan, located Northern Paris. What to discover during your journey: Lefèvre park, Château de la Forêt, Sévigné lake, Vincent Auriol park, Bellevue park, Notre-Dame de Livry Church, Lebanon cedar.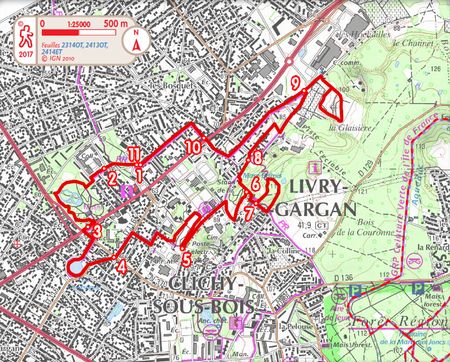 From the parking lot: cross the parc de la Mairie by the left. Before rue du 8 Mai 1945 to reach the RER train station in Sevran-Livry, take on the right allée Bossuet, allée du Général Trezel, avenue Ernest Pivot, on the right avenue Victor Hugo, avenue Jean-Baptiste on the left, avenue Brancher on the right and avenue de Livry on the left to get to the train station.
Follow rue du 8 Mai 1945, enter the Lefèvre park, follow the markings and pass by Château de la Forêt and leave the park by avenue du Consul-Général Nordling.
Cross the N3 (national road) and follow avenue du Président John Fitzgerald Kennedy, take a right turn on allée Jean Maridor and go around the lake to take boulevard Roger Salengro.
Cross the N370 (national road) and take the avenue Benoit Malon, turn right on allée Robert de Wey to go through Vincent Auriol park by following the markings, to get out of Chemin des Postes. (You can see during your journey the stele to commemorate the two professional cyclists: Antonin and Pierre Magne).
Get out of the park, take a left turn on Chemin des Postes to the crossroads. Cross the street on the right and follow allée Bellevue, turn left on Parc de Bellevue to join Grand Sentier.
On the right, follow Grand Sentier to the belvedere.
Go down allée du Belvédère and turn left on sentier du parc des Friches, follow the markings to go back to the belvedere, go down Grand Sentier to rue du Docteur Herpin on your right.
Pass by the church, take rue du Chateau in the bend, on your right follow the path to get to rue Vaujours, follow it on the left and walk along the cemetary to enter in the Georges Pompidou park.
Enter Georges Pompidou Park. Admire the view of the Plaine de France. Go back to the exit and turn on the left and take Chemin de Vaujours, rue Georges Clémenceau, rue du Pressoir and take rue Saint-Claude on the right to reach N3.
Cross the national road 3, continue on rue des Trois Frères and then turn left on rue François Villon to reach the parking lot.
Book your Paris guided tour