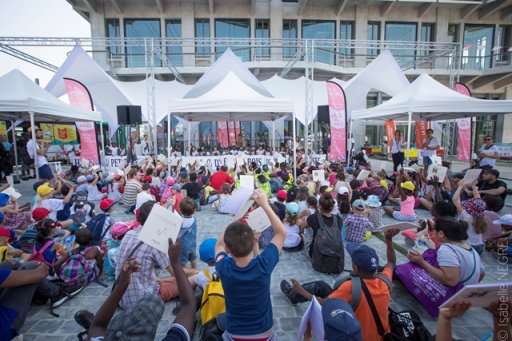 Partir en Livre honours reading and books. This event promotes reading and books as a means of gettting away from it all even for children who cannot go on a summer vacation. This major children's' book fair is organized by the French Ministry of Culture and Communication, Centre national du livre, with the support of Salon du livre et de la presse Jeunesse in Seine-Saint-Denis.
The aim of this major event around children's books is to bring books to the different sites: parks, gardens, Paris canal banks, summer activity venues, etc. and to make them available to all readers. Free activities around books, reading and writing are available on site on the initiative of the various partners (bookshops, publishers, libraries, etc.).
Temporary entertainment park for children in Pantin
theme 2023 : liberty
Do not miss this many stands, workshops, activities to celebrate books for children on the Georges Valbon Park.
Discover the interactive map Partir en Livre
The 1st operation Partir en Livre, entitled Lire en short was held on July, 2015 : more than 300,000 children from France and Overseas were able to participate in the activities proposed by the 600 partners. Partir en Livre is part of The Bel été solidaire et Olympique a summer event organized by the Seine-saint-Denis department.