Cap sur la Marne is a summer event that highlights the river Marne and its banks. From May to October, many animations and outdoor activities are organized on the Marne and its banks. Cruises, bike rides, walks and water activities are on the program each summer in the Parisian region.
Cruises on the Marne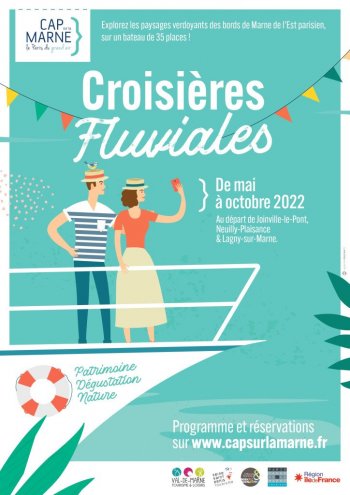 From mai to october, the collective Cap sur la Marne offers an eclectic program of guided cruises departing from Joinville-le-pont, Nogent-sur-Marne, Neuilly-Plaisance and Lagny-sur-Marne.  Aboard the Francilien of the association Au fil de l'eau, these river cruises will take you to discover the cultural heritage and history of the banks of the Marne, but also remarkable natural sites such as the Haute-Ile park.
 The thematic cruises are commented by specialists (lecturers or associations). The shuttle cruises allow you to admire the banks of the Marne from the boat. You can take your bike on board for a pleasant return trip along the Marne.
 
La Grande aventure
La Grande aventure invites you to visit the banks of the Marne in several ways: on foot, by bike or by canoe. This hike on the edges of the Marne on June 11th and 12th 2022 will make some stops at unmissable heritage, cultural and touristic sites.
Nautical activities on the Marne 
An emblematic and historic place for water sports, the Marne is lined with several water sports clubs that open their doors to the curious and adventurous during the summer season. Guided canoeing trips, stand-up paddle rentals or rowing initiations are to be expected each summer.
Walks or bike rides on the banks of the Marne
What could possibly be better than a stroll along the water in the summertime? The Cap sur la Marne collective is full of ideas for outings around nature or heritage, on foot or by bike, guided or on your own. A tourist map will soon allow visitors to plan their exploration of this almost fifty kilometer long river route.
The collective Cap sur la Marne
The Cap sur la Marne collective is made up of Val-de-Marne Tourisme & Loisirs, Seine-Saint-Denis Tourisme and the tourist offices of Marne & Gondoire and Paris - Vallée de la Marne with the support of the Ile-de-France Region.
The Cap sur la Marne collective aims to promote the banks of the Marne. The four tourism organizations have joined forces to create a route covering thirty municipalities from Charenton-le-Pont in Val-de-Marne to Chalifert in Seine-et-Marne, passing through the Seine-Saint-Denis region.