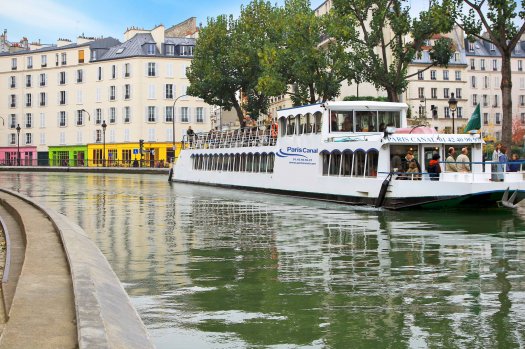 Take a break from the hustle and bustle of the city and spend an afternoon or a day discovering the magic of urban Paris, Paris Canal offers a selection of original cruises: a romantic cruise from Paris Orsay museum to Parc de la Villette, enjoy Paris' favorite landmarks and monuments along the Seine river and discover the picturesque Canal Saint-Martin ; Enhance your afternoon, take in the east side of Paris from the Seine river and Canal Saint-Denis to Stade de France ; and many other package cruises : a bucolic break, a Guinguette cruise on the Marne and many more occasions to experience unique themed cruises.
Paris Canal also has whole-day excursions, notably an idyllically rural cruise on the Seine River and the loop of La Marne river on which you will see small islands with their riverside restaurants and lovely houses nestling among the trees.
Cruise for 2h30 from Orsay Museum and Parc de la Villette
Paris Canal has an original selection of cruises for you: a unique tour of Paris combining the loveliest attractions along the banks of the Seine with the magical atmosphere of the Canal Saint-Martin.
Discover or rediscover Paris from a more unusual angle! Embark at Orsay Museum on the Seine River, glide by the Louvre Museum, the Tuileries gardens and canal Saint-Martin enjoying its bygone atmosphere, the locks and stylish footbridges. The cruise will end at the park de la Villette, finish your day off at la Géode, or la Cité des Sciences...
Boat rental deals for receptions or seminars. Paris Canal boat trips are commented in English. Reservation essential : resa@pariscanal.com
Starting Points for cruises
From Parc de la Villette to Orsay Museum
Departs 2.30 p.m. and arrives 5.00 p.m.at Orsay Museum.
Rendez-vous : In the middle of Parc de la Villette, behind Grande Halle Paris19th
(Metro : Porte de Pantin)
From Orsay Museum to Parc de la Villette
Departs 9.30 a.m. and arrives 12.15 p.m. at Parc de la Villette.
Rendez-vous : Quai Anatole France, at Orsay Museum carpark, Paris 7th
(Metro : Solférino ou RER : Orsay Museum)