The North-East of Paris is flourishing with cultural and artistic venues : theatres, concert halls, art galleries or circus tents, creation is thriving and omnipresent. But creation can also emerge in the most unusual places, independent places that are experimenting with new contemporary artistic forms, exceptional places, free and committed.
Intermediary venues
These hybrid places are grouped under the heading "intermediary venues" as they are a cross between a cultural institution and an artist's squat. They are, above all, places of work and residence for many artists who invent new forms of creation. Inserted in a region, they attach great importance to the development of local projects paying particular attention to the cultural aspect and public involvement in their artistic programs.
They support the ethics of sharing and working together. A laboratory of innovation, these independent cultural and artistic venues bring contemporary creation to another level and defend diversity.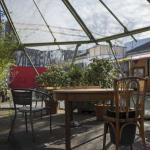 Villa Mais d'Ici
Set up in the heart of Aubervilliers, Villa Mais d'Ici is a multidisciplinary creative hub both artistic and technical on visual and living art. Here you can find artists, companies, street arts… It regularly organises neighbourhood actions with the local people.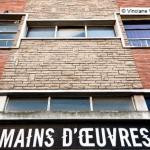 Mains d'Ľuvres
Set up in the Flea Market area, in a huge 4,000m˛ brick building, Mains d'Ľuvres is a place of creation that houses many artists in residence, a place of distribution with exhibitions, concerts, shows, workshops and discussions, a place of artistic practise that commits to transmitting the value of creation to a wider audience.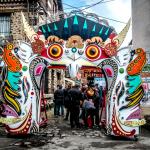 La Briche
This original venue is located in Saint-Denis in a former scrap merchant's industrial site. Redeveloped into artists' studios, La Briche houses sixty or so artistic creators and artisans - sculptors, designers, musicians, costume designers, screen printing. La Briche is a place for independent artists working on and experimenting with different materials. Some important events such as La Briche Foraine are an opportunity to visit the place.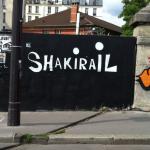 Le Shakirail
This temporary artistic workspace has been set up on rue Riquet in the 18th arrondissement of Paris, in the former SNCF changing rooms. It is made up of shared studios, rehearsal rooms, music studios - 60 or so avant-garde artists share these spaces in a creative spirit of emulation. Unlike other similar venues, this one is a temporary installation.
Le 6B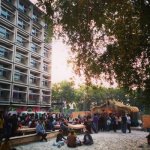 Quite an unusual place of creation, artistic and cultural distribution, 6B has set up in a fomer office building on the quays of Saint-Denis, along the canal. Spreading over 3,000m˛, it houses 80 artists' studios (architects, musicians, film makers, graphic artists, artisans, street artists) and organises numerous artistic and festive events.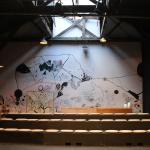 La Nef
La Nef - Manufacture d'utopies has been settled in the former brickyard in Pantin since 2007. A place of creation dedicated to the art of contemporary puppets, where you can find a puppet-making workshop, a writing plate, a rehearsal stage… La Nef gives life to projects in residence and transmits its know-how to the general public through learning sessions and workshops.
Some Parisian clubs and concert venues also settled on brownfields. Glazart is established in an old train station, and La Gare along an abandoned railway. La Station Gare des Mines is a cultural brownfield animated by a collective group.
Cultural brownfield sites: creation for the good of a territory
Cultural brownfield sites can be derelict buildings or abandoned factories occupied by a group of artists. This movement appeared at the beginning of the 70s in the North of Europe and spread to France in the 80s.
These brownfield sites or brownfields or intermediairy places, – the terms used for these unusual places remain unclear – , are "as the heirs of the forms of social and political contest of the time, they have long wanted to exemplify the circulation between artistic processes and other aspects of social life".
These spaces, that we cannot qualify as squats since they are occupied legally, are not part of subsidized "institutional" cultural venues either.
These alternative places, in the sense that they offer something else, experiment "new ways of introducing art into society" and explore new esthetics. The "cultural brownfields" have a genuine social dimension, they fit into their environment, set up projects with the local population and relate to, in general, the ecosystem of the area they are in.
Seine-Saint-Denis and North-East of Paris are rich in buildings undergoing redevelopment and both have a particularly fertile breeding ground for these types of projects. This breeding ground is truly an alternative place and contributes in making this zone a laboratory of artistic emergence for the benefit of the local population.
If you want more, you can also go to see the contemporary art open-air museum of La Defense.