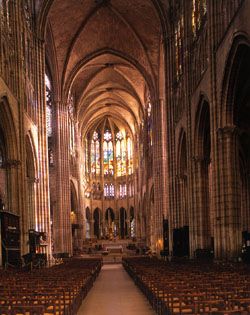 In 1231, Saint Louis was already contributing financially to the reconstruction of the abbey church, a major work of 13th-century Gothic art. The fact that the reconstruction was completed in 1281, in less than 50 years, provides an indication of the abbey's immense wealth. Pierre-de-Montreuil, one of the principal architects of the time, who oversaw the construction of part of Notre-Dame Cathedral in Paris and the refectory at Saint-Germain-des-Prés, also contributed to this major undertaking of the century.
The Basilica gives a powerful impression of height. The builders made especial use of fasciculated pillars composed of several small columns engaged with one another and each of them matching up with the ribs of the various arches of the vaulted roof. This style of architecture draws the eye of the visitor unconsciously upwards from the base of the pillar to the beginning of the vaulting of the roof and therefore the 28 metres height of the roof appears to be much greater. Gothic architecture, known in those days as "French", reached its apogee in that century.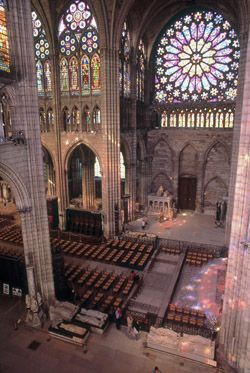 The sheer size of the buildings was the result of the rapid advance in construction techniques, of the use of flying buttresses and of the way in which building sites were organised. The quest for the greatest height possible combined in the 13th century with the will to create buildings that appeared to be empty to such a point that they became simply a setting bathed in light.
The Basilica, as it appears today, is not an exact reflection of Gothic architecture. In 1836, the steeple on the north tower, which rose to a height of 86 metres, was struck by lightening. Quickly rebuilt by the architect Debret, it had to be taken down in 1845 (because of cracks in the masonry) by Viollet-Le-Duc, who in so doing accomplished with sensitivity a transformation of the image of the building's façade still appreciated today...