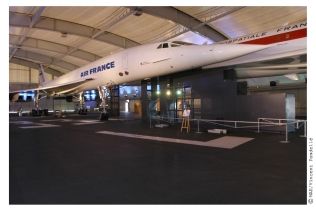 The hall is dedicated to the legendary Concorde. You can discover Concorde F-BTSD Sierra Delta, and the Concorde F-WTSS Prototype. The first flight of the latter was in 1969.
Since January 17, 2021  a military aircraft shares the hall with the Concorde. Indeed a military aircraft, the SEPECAT Jaguar A91, took place in the Hall Concorde.
12 976: it is the number of hours flown by Concorde F-BTSD between 26th June 1978 and 14th June 2003, the date of its arrival to the Air and Space museum. The Concorde Sierra Delta holds the highest speed records for commercial flights.
19th October 1973, after accumulating 812 flight hours, of which 255 were in supersonic, the Concorde 001 F-WTSS prototype was handed over to the Air and Space Museum by André Turcat.
August 1995, the Air France Concorde F-BTSD flight AF1995, completed its round-the-world flight eastward in 31h 27m 49s (including stopovers) with a flight time of 22h46 (18h46 supersonic). This world record is unequaled to this day.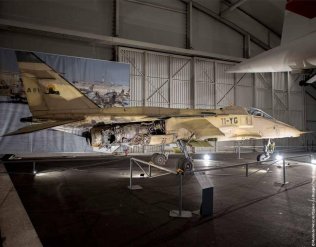 The SEPECAT Jaguar A n°91
The Jaguar A n°91 had been used in the Air Force since 1977. It was used until 1986 on several war missions. During the operation "Desert Storm" this Jaguar A91 was hit by a missile on January 17, 1991. It was then dismantled and repatriated to France to be used as a training aid and then sheltered sheltered at the Canopée Conservatory for 9 years.
It is now exhibited in the Hall Concorde of the Air Museum.
©Musée de l'air et de l'Espace - Le Bourget / Tania Rieu
Book tickets Air and Space Museum
A crazy rumor announced the sale of one of the two Concorde located at the Air and Space Museum in le Bourget Paris, and its probable flight. This misinformation was quickly disclaimed by the MAE. Both planes belong to national heritage on the same level as the château de Versailles and are not for sale. The Concordes in le Bourget will remain in the museum for the enjoyment of the visitors. For those nostalgic and disappointed not to see one of the two Concordes taking off: its last flight AF380Y from  CDG airport  to Paris Le Bourget on 14th June 2003 was immortalised.
Access to the Concorde hall is free but a ticket is necessary in order to visit the interior of both supersonic planes.
You can also be interested by our other english spoken heritage visits.