It is Wednesday afternoon, your children have no school and you do not know what to do with them? Here are some ideas of best choices for outings on Wednesdays in Seine Saint Denis near Paris. Children will not be the only ones to be spoiled, as adults and teenagers are sure to find what they are looking for in a sport session, a cultural event or leisure ideas in the North East of Paris.
A Wednesday afternoon at La Villette in Paris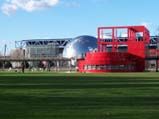 Parc de la Villette Many places are open on Wednesday afternoons that may appeal to children and adolescents. Some museums are devoted to children such as Cité des Enfants at Parc de la Villette where designers have created a fun-filled learning workshop for young kids from two years of age to help them understand how science works.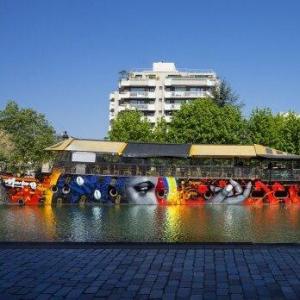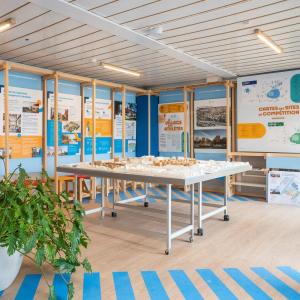 The submarine Argonaute can be visited onsite at Cité des Sciences. Visit this real submarine to discover the hushed atmosphere and the ingenuity needed to optimize such a confined space! It is a very accessible visit which can be combined with a walking tour in the park of La Villette.
The Park and the Grande Halle de La Vilette also offer activities for children to play in :  the red cubes "Folies" located throughout the Parc de la Villette. Folies are those iconic red cube pieces in the park, Folies for visits is located just before the bridge to cross Canal de L'Ourcq in the middle of La Villette not far from the very visited jardin des Dunes et des Vents (Area of free outdoor games) which is totally secured (1 entrance gate, walkers are not allowed inside and must remain at the follies, and of course, the game space is totally protected with white metal railings, and there are some benches…).
Visit Stade de France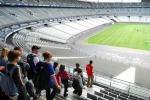 Visit the stadium Visit the Stade de France stadium. On July 12, 1998, France became world football Champions in the Stade de France, located at Saint Denis in Seine-Saint-Denis. France won the football world cup! Relive those happy memories and visit behind the scenes of the  Stade de France;  the famous champions changing room where you will find autographed jerseys or the players' locker rooms. This visit is the dream of football fans both big and small!
Fun activities for teens and adults close to Paris
Fun activities are available to help you enjoy your Wednesdays… Here a list of some suggestions for fun outings in Seine-Saint-Denis.

Most leisure park activities are designed for everyone and whatever the season. Different climbing centers have several courses according to the level of each person. Some of them are open late so you can go for a wall climbing adventure after work!
Horses riding in Seine-Saint-Denis !
Riding clubs offer riding lessons for all ages and levels in the proximity of Paris. Horse riding lessons at Porte de La Vilette Equestrian center, in the Equestrian center of Parc de la Courneuve, Equestrian Centre in Montefermeil and the Equestrian Center at Neuilly-sur-Marne municipality Equestrian Centre.
Wednesdays at the cinema
French cinemas renew their program every Wednesday! It is always exciting to see what's new ; maybe, there will be THE movie that will appeal to children.
Parks and forests in 93, Free visits!
Even though if it might be confusing for some people, Seine-Saint-Denis is a "green" department. The parks administrative houses are open in the afternoons, and people can view the exhibitions inside or enjoy the free activities for adults and children on various themes. Some of the activities require registration.
On Wednesdays, the park is a playground for free activities: bikes and skates!
Enjoy the pleasure of walking or cycling in the park! Every season the parks offer a show of changing colours ; yellow sun or white snow, it never ceases to charm the visitor. There are play areas for children in the parks, areas for cycling, running or simply walking…
You want more?
Look at our page about activities with teenagers in Paris.
Do you want to enjoy, a theatre show, a play !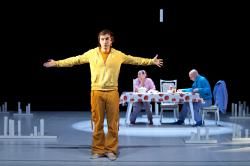 Theaters, concert halls, cabarets and auditoriums are some of the numerous event venues. Tailor-made events are made for different audiences : children, teenagers, adults, in the evening and during the day.
From Theater to the national dance center or circus arts; you are spoiled for choice. And it is not just for adults, theaters propose shows and stories for children also…
Air and space museum
Children, boys and girls, will forever remain sensitive to the magic of the Air and Space museum. How could we fly in a plane that seems so fragile? How can one fly this thing that seems so heavy? From one hall to another, view aviation and the way it travels through space at the speed of light…
You can learn a lot about the history of aviation. Make a lunch or have a snack-break at the on-site restaurant located close to the Tarmac. 
Planète Pilote : Play area at the Air and space museum Bourget : for the 6/12 years old. Planète Pilote is a space devoted to children between 6 and 12 years. Admission is charged. Children will discover the world of aviation by playing, touching, experimenting. They can even test a flight simulator… its magic!
History of kings and queens
The Cathedral Basilica of Saint-Denis is an amazing site, full of history and splendor. Children will be fascinated by the recumbent statues! Your only concern will be to keep them from touching the sculptures. But who were these carved figures: they were the kings and queens of France ! Why do they have animals lying at their feet? What happened during the Revolution? The history of the crypt, its intrigues: what can be found in this almost dark place? Do you want to find out. Maybe a heart ? The Basilica is huge, magical and serene with magnificent stained glass windows. Book a free visit with an audio guide depending on the guide's schedule. The Basilica is also accessible to people with disabilites.
Activities for the other days of the week