There are many things to do on a Saturday! Cinemas, shops, museums, sports facilities… are all open for you. To save your valuable time, we have prepared a program for you to start the week end. Here is our selection of activities from the plethora of tourism offers to spend an enjoyable Saturday in Paris.
Enjoy a Saturday morning at the Saint-Ouen Flea Market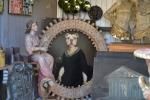 Fashionistas, collectors or simple browers are all bound to find something at the Paris flea market in Saint Ouen/Clignancourt. Wander through the different markets to find the object of your dreams: decorations, vintage clothing and accessories, toys, military vintage, records and books… relax after all that bargaining and eat in a friendly stylish French atmosphere, why not have lunch in one of the restaurants at the Paris Saint Ouen Flea Market ?
A Saturday afternoon on land, rail or water near Paris center
There are many different ways to visit the Paris region; whether you have a love for water, green fingers or are crazy about trains; you will surely find a way to visit Seine-Saint-Denis.
Discover the secrets of the Parisian railway network Rosny-Rail. This museum is run by some volunteer train enthusiasts. It is open on Saturday afternoons only from 2p.m. to 6 p.m.
Parks in Seine-Saint-Denis along with their pleasant green spaces, propose free workshops and activities at weekends especially on Saturdays. These are supervised by coordinators of the "Maison des Parcs" (park administration). Nordic walking, hiking, initiation to Qi Gong or yoga, observation of† faun and flora, etc. are in the list of the free activities program in the parks in Seine-Saint-Denis.
You would like to enjoy an activity on water! Take a cruise or rent a small electrical boat and discover the north-east of Paris.
A Saturday night in Seine-Saint-Denis
Many shows, concerts, plays, theaters and film screenings are on show on Saturday evenings in Greater Paris.
Check out the events programme in the north east of Paris
More activities idea for the other days of the week