Do you have some days off? On Thursday, anything goes… there is always something to suit and please everyone. The kids are at school, the museums are open, the commercial centers also, not to mention all the famous tourist visits. And… why not the pleasure of wandering around with no purpose without the massive crowd!  Are you looking for the big "idea" for your traditional Thursday "afterwork" with colleagues? Here are our suggestions for outings, visits and museums open on Thursdays in Paris and for off-the-beaten-track ideas in the northeast of Paris.
Where to go for an "after work" Thursday?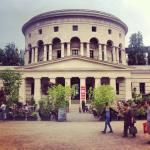 Discover many friendly places and original addresses located on the banks of the canals to chill out with colleagues after work on a Thursday night. Located close to canal Saint-Martin, Point Ephémère boasts a large space with bar, restaurant, concert hall and exhibition space. La Rotonde, a bar located inside the walls of the former Nicolas Ledoux Barrier vectors at place Stalingrad has an urban garden with a terrace.
In the area of Bassin de la Villette, the Bar Ourcq located at 68 quai de Loire, proposes concerts, sun-beds and bowling games. Several barges are moored at Bassin de La Villette. Antipode and Anako have a bar and a restaurant on their barges and are very affordable. You will also be able to attend a concert, an exhibition or a workshop on board.
In July and August during the Ourcq festival, both of the barges make a halt in all the cities crossed by canal de l'Ourcq : Pantin, Bobigny, Aulnay-sous-Bois.
Discover the backstage of companies close to Paris
Seine-Saint-Denis possesses a deep industrial heritage. Company visits are available mainly on weekdays. From small businesses to major industrials groups, discover their know-how and commercial secrets used in workshops, factories and laboratories.
Historical monuments open to all public
If you want to discover the history of France, there is no need to go to Paris !
Basilica of St Denis highlights all the greatest kings and queens of France from Charlemagne to Louis XVI. With its famous, impressive stained glass windows and its large recumbent effigies and intriguing crypt, the Basilica-Cathedral of Saint-Denis is absolutely fascinating.
Visit the Art and History museum located close to the Basilica; it is a former Carmelite convent. A visit not to be missed.
Another visit not to be missed is the Shoah memorial center, the duty of remembering: the Drancy transit camp, the memory and history of deportation – open on Thursdays. Why did they choose Drancy? What are all these buildings in front? So many questions that will be answered during these overwhelming emotional moments.
Walking tours and cruises near Paris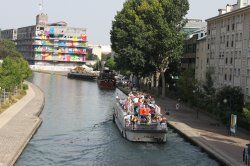 Walking tours and cruises are proposed along the canals such as the Canal de L'Ourcq as well as parks such as Buttes-Chaumont.  You will undoubtedly enjoy walking or biking to discover the changing landscapes of this territory that preserves and promotes its green spaces.
Other activities for the rest of the week