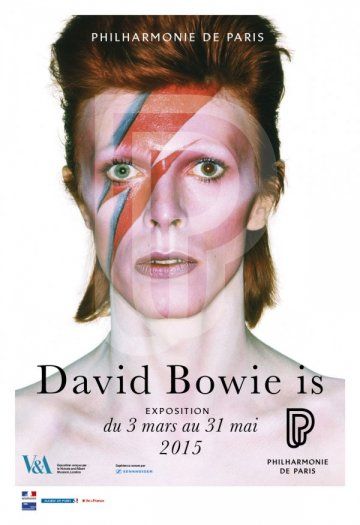 David Bowie is, the exhibition is now confirmed from 3rd March to 31st May 2015 at the exhibition space in Philharmonie de Paris located in Parc de la Villette close to Philharmonie2-the former Cité de la Musique.
V & A Museum London, curators of the David Bowie is exhibition have selected the Philharmonie de Paris for its Parisian exhibition tour. This venue, inaugurated in January 2015 by French President François Hollande, claims to be Paris' most innovative architectural design venue devoted to classical music, art and exhibition.
The David Bowie is exhibition is an opportunity to learn more about his absolutely exceptional career, the different personalities of David Jones: Ziggy Stardust, Aladdin Sane, the Thin White Duke and many other colorful characters that have made up his life. The exhibition shows unpublished archives, features more than 300 objects mainly taken from David Bowies' documents and recordings, photographs and videos, handwritten pages of songs, drawings, costumes and musical instruments and components, a retrospective witness of his extraordinary career and its impact on popular music culture by this truly singular artist who defies all labels: "unique and unclassified".
How to get to the Bowie exhibition in Paris
By public transport : To get to Philharmonie de Paris, take tramway line T3b to Porte de Pantin station or take metro line 5 to Porte de Pantin station. The venue is a five minute walk from the station Porte de Pantin and fifteen minutes from some of the main stations in Paris: Gare du Nord or Gare de Lyon. Roissy Charles de Gaules airport is accessible by RER line B from Gare du Nord station.
Hotels with views on the imposing multi-level innovative concert complex
Check our listed pages of "charming accommodation options" to book a hotel close to Philharmonie de Paris. If you want a room on the 11th floor like "Queen Bitch", David's song Queen Bitch- "I'm up on the eleventh floor And I'm watching the cruisers below…"The Mercure Paris La Villette Hotel located at Pantin overlooking Parc de la Villette and Philarmonie de Paris, and, just like Queen Bitch you can watch the cruisers below on Canal de L'Ourcq…