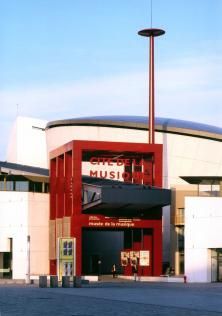 Designed by the architect Christian de Portzamparc, Cité de la musique was inaugurated in 1995 in the heart of Parc de la Villette as a national and international reference pole entirely dedicated to music, with the innovative project of music transmission. It is a venue entirely dedicated to music with 250 concerts per year, a media library, a rich and varied educational programme for adults and children at Musée de la musique with its rare collections. Musée de la musique organizes visits around 5 spaces: 4 spaces for western music (from seventeenth century to the twentieth century) as well as a space dedicated to world music.
Totally dedicated to music, Cité de la musique that merged with the venue Philharmonie of Paris, is located in the southern side of Parc de La Villette, at place de la Fontaine-aux-Lions at Porte de Pantin in the 19th district of Paris.
Cité de la musique - Paris 19e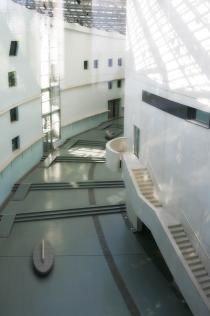 Two buildings: the emblematic one with its multiples concerts, superb exhibitions, museum of old instruments and public recognition on the site of La Villette and a brand new one that sprung from the earth in 2015. It prides itself on emerging technologies of high acoustic standard and a pleasant architectural design. Cité de la musique and Philharmonie de Paris become one!
With its usual success and added value with the Philharmonie 1 Paris, Cite de la Musique gives a wider public access to musical culture via concerts in the museum, exhibitions, documentation centres, music workshops for adults and children every weekend.
Each year about 250 concerts are programmed with artists and prestigious ensembles, national and international.
A genuine multicultural mosaic, it recalls all artistic styles and trends (classical music, jazz, song, world music). Musée de la musique is a reference of more than 1000 instruments and listed artworks and temporary exhibitions. It covers wide historical periods from the antiquities to more recent times.
Musée de la Musique
Over 3000 m², the Musée de la musique showcases about 1000 instruments and art objects some as rare as the turtle guitar, the octobass or a cristal flute. Some of them belonged to personalities such as Django Reinhardt, Frédéric Chopin or even Frank Zappa. The Museum is organized around a chronological tour relating music episodes from the seventeenth century until today on western music and a map showing the geography of world music.
The Museum can be visited as a musical tour… Every day, free concerts are programmed in the Museum. Some highlights of the visit, meeting up with the musicians offers a unique moment to visitors to listen and exchange opinions about world music. Collection Instruments or fac-similes are frequently played during performances. About 150 artists coming from different musical backgrounds play regularly at the Museum. An audio guide also accompanies visitors on this musical trip to the heart of the history of music: for adults or for kids, it is enriched with many recordings made on the instruments of the collections. Musée de la musique is a must-see for the curious and music lovers- an essential visit during your stay in Paris!
You enjoy learning about art and culture? Don't miss our visits about creation in Paris!
Events at Cité de la Musique
Every year, Cité de la musique puts on a rich and varied programme with the participation of international artists such as Pierre Boulez, Didier Lockwood, Wayne Shorter. It also includes major exhibitions. For the record, 2011/2012 the exhibition «Paul Klee Polyphonies", or 2012 a tribute to Bob Dylan with the exhibition on Bob Dylan, a rock music explosion (1961-1966), and in the same year 2012 the exhibition on Django Reinhardt.
The 1st half of 2013 highlighted the exhibition on the theme of music and cinema. The exhibition Europunk was held from October 15 2013 until January, 19th, 2014. Early 2014 from March, 11th to August, 24th, the exhibition Great Black Music on the history of black music was unanimously acclaimed throughout the world.
To inaugurate Philharmonie Paris, two beautiful exhibitions were proposed: Pierre Boulez from March, 17th to June 28th, 2015 at Cité de la musique and David Bowie is... at Philharmonie 1 from March, 3 to May, 31st, 2015.
And also with Parc & la Grande Halle de la Villette, it co-produces the Jazz festival at la Villette during summer, and the Days off festival after that. Philharmonie Paris welcomes the Biennial of vocal art gathering together ensembles and international choirs.
Opening hours and access Cité de la musique
From Tuesday to Wednesday from noon to 6:00, Saturday and Sunday from 10 am. To 6 pm. Close on Mondays.
Access to Cité de la Musique
Cité de la musique
221 avenue Jean Jaurès 75019 Paris
Tél. : + 33 (0)1 44 84 44 84
email : contact@philharmoniedeparis.fr (for disabled person information)
website : https://philharmoniedeparis.fr/en
M° Porte de Pantin (line 5) / Bus : 75, 151 / Tramway T3b (exit Porte de Pantin)
Route : Paris ring road, exit Porte de Pantin / Park your car