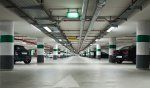 La Villette includes several major tourist sites, including artistic ones such as Cité des Sciences, Géode, Grande Halle, the mythical concert hall Zénith, the Philharmonie of Paris and Musée de la musique !
It is strongly advised to come by the Parisian public transport network, either by (line 5 or 7), tramway (T3b), and bus. Nevertheless, we can give you information about the various carparks located near Cité des Sciences, Musée de la musique and Philharmonie Paris. Find your parking spot at one of the underground carparks and you will be able to go easily on foot to the different sites or areas at Parc de la Villette.
Parking at Cité des sciences 7 days a week and 24 hours a day
There are 1,467 fee paying parking spots which include parking space for people with reduced mobility (PMR) located at this car park - Indigo. It is also possible to make your reservation via the website. If the car park is full, try the one at the Philharmonie or at Musée de la Musique or park your car on one of the nearby streets and take metro line 7 (Porte de la Villette).
The rates for a parking place for your car (the daily rate is given as an indication) are :
1 hour : 3,20 ¤
3 hours : 9,60 ¤
24 hours package : 25 ¤
Possibility of payment with credit card, on exiting the car park or by cash at the automatic cash payment machines. You can also book your parking space on the Vinci website. www.parkindigo.fr_cite des sciences
Car park address at Cité des Sciences - Paris
Paid parking Indigo - 30 avenue Cariou - Paris 75019
The entrance to the car park near Cité des Sciences is located on boulevard MacDonald (towards n°61) and there is another entrance at quai de la Charente (via 30 avenue Cariou). The maximum height of your car should not exceed 1, 90 m.
All buses and coaches must, however, imperatively enter via 61 boulevard MacDonald and exit by quay de la Charente. It is also the closest car park to get to the Paris Event Center.
Underground parking Cité de la musique is open every day
Vinci car park is located underground at Cité de la musique and has got 480 places. Do not forget that on concert days it is rapidly full. Alternatively, think about the possibility of parkimg your car at the Philharmonie car park (the nearest one) or at Cité des Sciences and cross the park by foot in just a few minutes. If all the car parks are full, move further away from the site and park your car near one of the metro stations on line 5 (travel back by metro and exit at Porte de Pantin station) or Tramway T3b.
Car park address Musée de la Musique - Paris
The entrance of the Indigo car park - Cité-musée de la musique is at 211 avenue Jean Jaurès (Paris 75019). Enter by the main road on the right of the ring road at Porte de Pantin in direction of Paris.
Maximum height for vehicles is 1.90 m, fee paying car park.
www.parkindigo.fr_cite musique
Parking Philharmonie Paris Porte de Pantin open 24 hours a day
The parking Q-Park is located underground at la Philharmonie de Paris. It has got 564 places with direct access to the Philharmonie and once outside, it takes just a few walking minutes to get to the Zenith, Grande Halle de la Villette, etc.
It is possible to book your parking spots via the website of Q-Park, it is also accessible to people with reduced mobility (PMR), recharging electric vehicles is possible also.
For your information the minimum time is 3 hours (no charge for under three hours parking). Opt for the show and concert packages which exist for visitors, package deals for entrance and exit only, or multiple access, for a day or a week.
Open every day and 24 hours a day, the car park accepts vehicles and motorcycles but under no circumstances buses or coaches - entrance: 1.90 m maximum height.
One pass parking package: 16, 43 euros (2017 - the daily rate is given as an indication –subject to modification)
Car park address at the Philharmonie Paris
Parking Q-Park – Philharmonie de Paris :
185 Boulevard Sérurier (accès depuis la Porte de Pantin) - Paris 75019
www.q-park-resa.fr/ - Coordinates GPS : 48.890521 / 2.395149
Hotel near La Villette

Browse through the list of hotels close to Parc de la Villette, Zenith Paris, Trabendo, Cabaret Sauvage, Grande Halle la Villette, Philharmonie Paris.