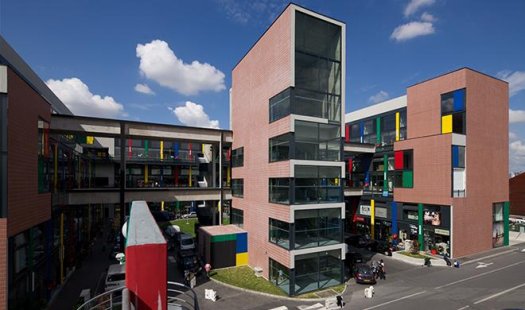 The center CIFA (Centre International France Asie) was created in 2006, to try to relieve congestion of the Sentier district by moving the wholesalers a stone's throw from Paris. The commune of Aubervilliers now constitutes an interesting alternative with important sale and storage space. Since then, many professionals in prêt-à-porter have set up here (importers and clothing wholesales, accessories, fashion jewellery, handbags, lingerie, men and women's fashion, etc.).
CIFA has a large space of 40,000 m2 for sales and storage. Due to its size and the number of wholesalers and the provenance of buyers, CIFA is considered today as the largest wholesale trade center for personal goods in Western Europe.
The expansion of CIFA has been planned with the construction of the centre CIFA 4 which will allow additional wholesalers to settle there.
The Fashion Business Center of Aubervilliers is particularly accessible. Close to the ring road and major highways axes such as AutoRoute A1 whicb serves the airport CDG, the CIFA Aubervilliers is located just 30 minutes from CDG Roissy airport and a few minutes from the centre of Paris via line 12 on the metro. It has free parking of about 1,500 spaces. It has free Wi-Fi access and a restauration space.
Le CIFA, fashion center at Aubervilliers is open from Monday to Friday from 9:00 a.m. to 7 :00 p.m. and Saturday from 2:00 a.m. to 7:00 p.m.. It is accessible to everybody but it is dedicated for wholesale (no sale in retail).
If you are planning to sleep in the area once here, you can reserve a hotel room near CIFA Aubervilliers or book an apartment for a short stay in Aubervilliers.
Seine-Saint-Denis hosts several professional events around textile: Première Vision Paris Villepinte, Texworld and ApparelSourcing fairs at Paris Le Bourget.