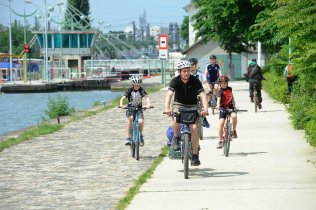 Aubervilliers is ideally located for a short stay in the Paris region. Booking a furnished apartment in this town, which borders the 18th and 19th arrondissements of Paris, Pantin and Saint-Denis, means you'll be within easy reach of many major events and places of interest. The city is easily accessible by public transport, with metro, streetcar and bus services.
Short stay appartment close to Parc de la Villette
Parc de la Villette is located close to Aubervilliers. If you are going to a concert at Zénith, an exhibition at Cité des sciences et de l'Industrie or attending a professional event, book a furnished apartment in Aubervilliers, it is an ideal solution, economical and practical.
Furnished accommodation close to Pantin, Saint-Denis and Paris
If you're renting a furnished apartment to visit Paris, Aubervilliers is within easy reach of the 18th arrondissement and its must-see tourist sites: Pigalle, Montmartre, etc. Thanks to metro lines 7 and 12, you can quickly reach the center of Paris.
Aubervilliers is not far from Saint-Denis, its Basilica-Cathedral and the Stade de France. The town has much to offer holiday makers and visitors alike.
With a temporary rental in Aubervilliers, you can reach Pantin for your training or business event in no time. Pantin is home to numerous companies, training centers and cultural venues.
Stay in Aubervilliers for a short time
Take advantage of your short stay in Aubervilliers to visit the town.
Aubervilliers has a rich industrial heritage and an energetic and dynamic cultural life. The Théâtre de la commune, national center for dramatic art since1971, proposes a specific programme. Fort d'Aubervilliers hosts Bartabas Zingaro equestrian theater ; Entrepôts et Magasins Généraux Paris close to Canal Saint-Denis now hosts corporate events.
Check out our list of hotel accommodation in and around Aubervilliers. We also offer vacation rentals in Saint-Denis, short-term rentals in Pantin.
See also : find your apartment in Paris july and august 2024 during the Olympics.