Aubervilliers is ideally located. Book a room in this town that neighbours the eighteenth and nineteenth districts of Paris and also Pantin and Saint Denis from where you can  reach many places and major events in a short time. The town is easily accessible by Public transport: Metro, Tramways and Buses.
Discover the Heritage in Aubervilliers by staying in private homes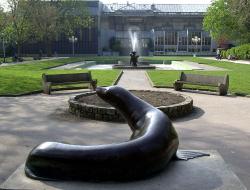 Aubervilliers has a rich industrial heritage and an energetic and dynamic cultural life. The Théâtre de la commune, national center for dramatic art since1971, proposes a specific programme. Fort d'Aubervilliers hosts Bartabas Zingaro equestrian theater ; Entrepôts et Magasins Généraux Paris close to Canal Saint-Denis now hosts corporate events.
Book a B&B close to Parc de la Villette
Parc de la Villette is located close to Aubervilliers. If you are going to a concert at Zénith, an exhibition at Cité des sciences et de l'Industrie or attending a professional event, book a furnished apartment in Aubervilliers, it is an ideal solution, economical and practical.
Seasonal rentals close to Pantin, Saint-Denis and Paris
Saint-Denis and its Basilica-Cathedral, the stadium, Stade de France, Cité du Cinéma, etc. the town has much to offer to tourists and visitors. Aubervilliers is located next to the Stadium.Pantin welcomes many companies and training centers. Short term rentals at Aubervilliers allow you to get to Pantin, for your training or professional events quite quickly.
If you rent  furnished accommodation for your holiday stay, Aubervilliers is located on the borderline of the eighteenth district with its must-see tourist sites: Pigalle, Montmartre, etc. Check out our list of hotel accommodation in and around Aubervilliers.