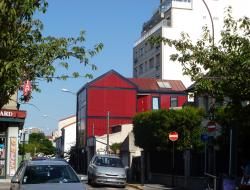 Les Lilas is a charming town close to the 19th arrondissement of Paris and the Belleville district. Renting an apartment in Les Lilas allows you to visit Paris while enjoying temporary accommodation at a more attractive price than in the heart of the city.
Rent a furnished apartment in Les Lilas to visit Paris
Book a holiday rental in les Lilas, a practical solution to discover Paris by taking the Parisian metro line 1 which connects the main stations in particular République and Châtelet in no time at all. Metro lines 3 and 3 bis are accessible. Tramway line 3b takes you to Vincennes in the South and Porte de la Chapelle in the north. It also serves Parc de la Villette and la cité des Sciences et de l'industrie.
Apartment in Les Lilas (Paris - France)
 Sleeping near Debré hospital
The Robert Debré hospital, located in the 19th arrondissement of Paris, is right next to Les Lilas. Renting a furnished apartment in this northeastern Parisian town means you can stay close by if a child is hospitalized. You can also rent a short-term apartment in Le Pré Saint-Gervais, close to the hospital.
 Furnished accommodation close to Pantin and Bagnolet
Les Lilas is situated close to Pantin and Bagnolet. If you need to attend an event or training course in one of these cities, booking one or more nights of furnished accommodation in Les Lilas is a convenient option.
Check out our tips if you are in need of an apartment during the Paris Olympics.
A selection of hotels located close to Les Lilas and surrounding area is at your disposal. Find a vacation rental in Bagnolet, a town near Les Lilas, or a short-stay rental in Pantin.