Bagnolet and its Mercuriales are landmarks in Seine Saint Denis. Both buildings stand like two headlights that can be seen from North East Paris. It is also an ideal spot to sleep close to Paris.
Rent a furnished room at Bagnolet : a practical address for Paris
The A3 motorway in Bagnolet is ideally located and an easy starting point to take you to Paris. You are close to metro line 3 and tramway line 3b at Porte de Bagnolet. It's an ideal location for a business trip or a leisure trip in a furnished apartment.
Vacation rentals to discover the living heritage in Bagnolet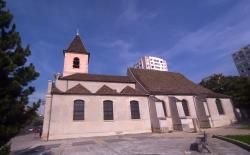 Short stays in a guest room or furnished apartment in Bagnolet make it possible to discover the artistic heritage in perpetual movement. The City of Street Art "par excellence", the town also hosts International Choreographic sessions taking place in Seine Saint Denis along with many other cultural events.
By choosing to rent an apartment from a local resident in Bagnolet you can discover the historical heritage of the town. The church Saint-Leu Saint-Gilles is the most ancient monument in the town about sixteenth and eighteen centuries, it restoration has preserved it from ruin, renovation ended in 2000. In 2013, the fourteen stained glass windows were restored also.
Bed and Breakfast in Bagnolet during your business trip
If you are on a business trip or taking part in a professional event or training course in the North East of Paris, book a few nights in a guest house in Bagnolet. It is an ideal location with Paris or Montreuil a stone's throw from your location. You will of course receive a warm welcome.
The town proposes, along with bed and breakfast accommodation, a list of hotels in Bagnolet and its surroundings