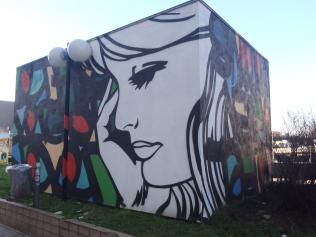 Bagnolet, the city of Street Art is full of impressive graffiti and urban treasures. This city is near the 20th district in Paris and is easily accessible by metro-Parisian public transport.
Street Art in Bagnolet
On the map below, we have listed all the best graffiti  in the city. So, as you stroll you'll be free to walk along streets where artists from all backgrounds have adorned the walls with colors and illustrations. So visit this open air museum consisting of large murals and urban works through artists such as C215, Orus, THTF, Skio…
A precious map
With these valuable tips, you will be able to discover all the best spots of Street Art Bagnolet. Indeed, each of these pointers is a remarkable achievement that we have identified. Explore the map at your own pace going from one amazing place to another, from Graff to Graff.
According to our Graff map reading done on February 3, 2014, we advise you to follow the order of pointers A to M. This will ensure that you do not  miss any of the works. But you can of course do it any way you like! Alternatively, take part in our guided tours to discover Street art in Bagnolet.
The map

Afficher Street Art à Bagnolet sur une carte plus grande
Where to find frescos of street art graffiti
To allow you to wander along the street graffiti art trail as easily as possible, we have listed the different fresco locations. The dots on the map correspond to the exact location where you will find these magnificent graffs. These pointers are: 
Fresco A : Rue Raoul Berton
Fresco B : Place du Centre-Ville
Fresco C : Rue Adélaïde Lahaye
Fresco D : Rue du Général Leclerc
Fresco E : Rue Pierre et Marie Curie
Fresco F, G et H : Rue Charles Graindorge
Fresco I : Rue Vaillant Couturier
Fresco J : Rue Adélaïde Lahaye
Fresco K : Passerelle des Mercuriales
Fresco L : Avenue Gallieni
Fresco M : 78 rue Jules Ferry
Fresco N : 180 rue Robespierre
 
Access :
Several Parisian public transports serve Bagnolet: bus lines, Metro, motorway and  tram are located close to the city.
 
Many buses serve Bagnolet, but to start the tour from point A, the easiest way is to take bus line 76 towards Bagnolet to Mairie de Bagnolet station.
 
By metro lines, to come by the Parisian metro lines, take line 3 towards Gallieni and get off at Gallieni
 
By motorway, take A3 to join the ring road to the heart of the city
Practical informations