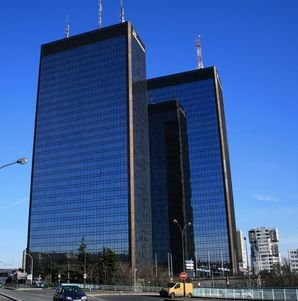 Bagnolet, with its Mercurial towers, can be spotted for miles. High up in the Parisian landscape, they offer a visual harmony over the city. Pavilions and city housing estates, high technology and craftsmanship all have a major impact on the rhythm of the city.
The latin word "balneoletum" meaning sources, baths or banns, in reference to the situation of the place, the ban of a domain. For a long time it was a small village surrounded by hills where clay and gypsum were extracted. Bagnolet became a good vacation spot. It was in 1789 that Bagnolet obtained the status of a genuine residential district. After Avenue Gallieni, the Coutures quarter got its name from the  main activity of market gardening which had been the development factor of the area until the arrival, in the 19th century, of a Parisian population attracted by the Haussman-style urbanization.
 A3 motorway, ring road - a major axis near Paris
Bagnolet adjoins Paris, just separated by a ring road. Porte de Bagnolet is an important transport link crossing the motorway A3 junction. The Gallieni metro station is close to several hotels, a shopping mall, an ideal option a few steps from Paris !
Visit Bagnolet…industrial heritage and film locations
Moulinex factory, located at N° 11-13 rue Jules Ferry was established in 1932 with the first workshop producing vegetable-blenders. Visit the Flemish style house next to Jules Ferry school at 27-29 rue Paul Bert; take rue de L'Avenir, a reminiscent passage of the old Bagnolet. Stroll around Rue de la Liberté and rue de la Fraternité. Going up the "Ravins and Guilands" pathways, you will see an unusual display of gardens and small houses. Take a look at "Maison de la Tourelle" late nineteenth century, a brick building which can be seen in the film "Tenue de soirée" a 1986 French comedy-drama directed by Bertrand Blier.
Go off the beaten path to discover rue Blanche and the path "Fosse aux fraises" that will take you to Jean Moulin Departmental park built on top of old quarries. In 1989, a French sculpter Ipoustéguy designed a monumental bronze sculpture "A la santé de la Révolution". Between the old fortifications and the center of Bagnolet there used to be "a zone" of adventure playgrounds and Guinguettes. Amélie Elle, known as "Casque d'Or" lived in this place. She inspired the French filmmaker, Jacques Becker and her role was played by Simone Signoret. She was buried in the town cemetery but the grave no longer exists.
Nature and architecture
Walk over the bridge to rue Charles-Delescluze, turn left on to rue du Général Leclerc, you will find yourself in "Jardin des Buttes". There you will find a beehive of thirty swarms which produces more than one ton of honey each year. In the background, the Mercurial towers,  designed by the American architect Wriley (1975). Not far away, le clos à pêches, a fully developed ancient gardening technique dating back to the sixteenth century that allowed peaches to grow up against a wall of lime plaster. The microclimate obtained and the careful seed selection as well as an almost "jealous" nurturing of the fruit makes it possible to obtain high quality fruit. There is a branch with peaches on the city coat of arms.
Walking through rue Raoul-Berton, you will arrive at rue Sadi-Carnot, a former high street. La maison du Cardinal Du Perron from the 16th century is located at N° 43. Plaster-made houses at 28, 32, 60 are some of the horticulturists old houses. N° 47 was where the first school was built by the city council in 1842.
On rue Sadi-Carnot you will see the castle "Chateau de L'Etang", a large town house, built in 1860 which is now a childcare centre. There is a garden where you can go for a picnic under the shade of two centenarian purple beech trees and the black mulberry tree. Take a walk along rue du Pinacle towards the home gardens. At N° 2 rue Danton, you will find the art metal working factory ; Moliere, César's and Victoires de la musique trophies come from this art foundry.
Saint-Leu Saint-Gilles church: a 16th century building
At the level of Sadi Carnot Street, you will arrive at the church of Saint Leu Saint Gilles the oldest building in the city (16th and 18th centuries) Saved from ruin after major restoration, the church was re-opened on December 17th 2000. Restoration inside the building was completed in May 2013 to allow for ten large paintings to be exhibited on the walls and 14 restored stained-glass windows now give new light in the church. Opening days to the public: Thursdays from 10a.m to 12 am - 12.30 to 6 p.m. Sundays 10 to 3pm except during services in the late morning in French and Polish.
Bagnolet, the city of Street-art
Bagnolet is a very active city in the world of street art with festivals such as Kosmopolite. Do not miss the guided tour or guided walking tour around Street Art in Bagnolet.
Practical information
Tourist Information Office