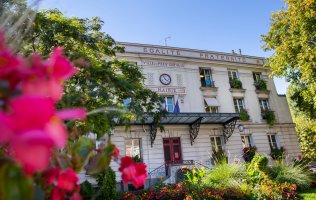 Pré saint-Gervais is the smallest town in Seine Saint Denis in terms of surface area. Nestled between Les Lilas, Pantin and the nineteenth district of Paris, this small, village-like town, enjoys all the amenities of its neighbouring towns and has quite a quirky character. Renting a house or an apartment in Pre saint Gervais allow you to stay near the Parisian public transport network which will give you easy access to all major tourist sights or business centers.
Book an apartment for a stay in Le Pré-Saint-Gervais
Rent furnished short term accommodation for your holiday in Paris
Short term B&B rentals in Pré Saint Gervais give access within minutes to Park de La Villette, concert halls (Zenith, Trabendo), Cité des Sciences and Philharmonie. Enjoy the proximity of the nineteenth district of Paris or the Parc des Buttes Chaumont.
What to see close to Pré Saint-Gervais
Furnished accommodation in this town in Seine Saint Denis will allow you to discover sites of interest close to Pré Saint Gervais.
The garden-city in Pré Saint-Gervais is said to be a model of its kind. Initiated by an English architect, the concept of garden cities is to streamline urbanization. A garden city is composed of an area combining houses, green spaces, infrastructures (schools and kindergartens).  
The villa du Pré is a veritable peace haven in the heart of the town. An enclosed residential area, wandering through the calm streets, you will see slow-moving cars, children, inhabitants and many neighbourhood cats. A country-side atmosphere right next door to Paris.
Rent a room in a guest house while on business or training course
If you are coming to Paris for a professional event, staying in a guest house or renting a room with a host family is a good solution for home-stay accommodation. The fast Parisian public transport network makes it easy to get to La Villette, or Saint Denis for an event at the Stade de France.
If you want to rent a furnished room near the territorial civil service training centers, and the local civil competitive examinations center in Pantin (CNFPT or CIG Paris) Pré Saint-Gervais is just a few minutes away.
To go to the center of Paris, there are three metro lines close to Pré Saint Gervais.
Browse through our list of hotels in and around Pré Saint Gervais, short-stay rentals in Pantin or short-stay apartments in Les Lilas.