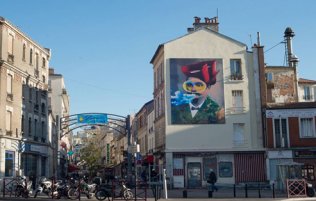 The town of Montreuil is known for its energy and cultural wealth. Opting for an approved vacation rental, a furnished apartment or guest house will give you the opportunity to enjoy all the activities in this town located in the North-East of Paris. Concert halls and shows, theatres, cinemas, bars and restaurants, shops and unusual heritage visits are available to you during your stay here with family or during a business trip. Renting an apartment for a short stay in Montreuil allows you to visit Paris.
Book your apartment for a stay in Montreuil
Stay in a furnished apartment in Montreuil to visit Paris
If you want to visit Paris Ile de France during a week-end or short holiday, rent furnished accommodation in Montreuil, in a city apartment or guest house. These are ideal accommodation options. Montreuil has very pleasant residential neighborhoods  just minutes from the heart of Paris close to the twentieth district. The city is served by metro line 9 of the Parisian public transport as well as several buses and tramway 3b.
Public transport in Montreuil :
- Metro line 9
- Tramway T3b
- Ring road: Porte de Montreuil
- the A3 freeway is nearby (Porte de Bagnolet)
Rent furnished accommodation to attend all major events in Montreuil
Large scale cultural events, for all public and professionals are held in Montreuil-sous-Bois throughout the year: the children's book fair takes place in late November and early December, for big and small, in the media and press sector. Information Open Days promote artists' workshops and allows to dialogue with professionals, artists and craftsman who occupy the 300 workshops in the city. If you have to attend one of these events as a professional or individual, renting a furnished apartment in Montreuil offers a cost-effective friendly economical alternative to conventional hotel-type accommodation.
Montreuil is well located if you attend the Paris 2024 Olympics Summer Games. Check our our list of accomodation if you are looking for a Paris apartment during the Olympics.
If you cannot find furnished accommodation to suit you, you can always book a hotel room in Montreuil or rent a furnished apartment for a short stay in Bagnolet.