Saint-Ouen has many rental apartments near or in the heart of the Paris-Clignancourt flea market close to the Paris metro network.
Apartments in Saint-Ouen Paris
Guest house accommodation to see the Puces, the castle and the St-Ouen docks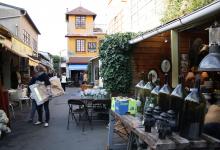 Renting a furnished apartment in this town in Seine-Saint-Denis, is the ideal solution to enjoy the different flea markets in Paris Saint-Ouen. Stroll through the delightful antiquated atmosphere of the antiquarian stands and the café-bars where accordion music resounds.
If you stay in Saint-Ouen in a room or guest house do not forget to visit Saint-Ouen's small castle and the docks, rehabilitated into an Eco quarter.
A furnished apartment in Saint-Ouen : an ideal base to visit Paris
Thanks to its proximity to the eighteenth district in Paris, booking Bed and Breakfast in Saint-Ouen makes it easy to visit some major tourist sites in Paris: Montmartre, Sacré-C½ur, Pigalle, etc. Different public transport options are available giving access to other major tourist sites in the north-east of Paris.