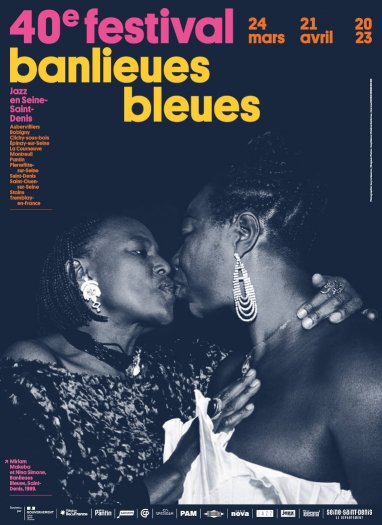 Banlieues Bleues, a bustling jazz festival in Seine-Saint-Denis!
Innovative, audacious, plethoric, full of inventions and initiatives, the Banlieues Bleues Festival is at the highlight of the music season in France and Europe. Famous around the world, this Seine-Saint-Denis, Great-Jazz festival continues to explore vast and lively musical territories! Each edition of the festival features jazz-inspired various concerts to make up the music-festival spirit with jazz gigs on the stage of the Paris Ile de France venues.
photo 2023 © Guy Le Querrec / Magnum Photos
Banlieues Bleues festival Venues
Many major new jazz talents are topping the bill! Jazz fans visiting Paris can track the contemporary pulse of the jazz music scene with names such as Dizzy Gillespie or Django Reinhardt at some of the classical jazz clubs. They also offer a dynamic program of new jazz talents from around the world.
Read: Where to listen to jazz music in Paris ?
Dynamo, the residence all year round for concerts and events, is also the venue for special jazzy gig evenings. Festival Banlieues Bleues takes place in several venues across the territory of Seine Saint Denis.
Public transport includes information to get to all venues accessible via the main metro and RER stations: Aubervilliers Quatre Chemins, Porte de Pantin, Stade de France Saint Denis…
Location and concert program
Opening of the festival at the University Paris VIII on March 24, 2023 at 6:30 pm
BEN LAMAR GAY ENSEMBLE + YEAH YOU + TETO OCAMPO Mucho Indio + FANTAZIO Histoire intime d'Elephant Man + Gwilly Edmondez ORTRESPOX LIVE - The BB40 Version + NOUT + FRISBEE SHOP + LEMON JAM + Hip-hop Spot with The Freedom Artists & Guests
Free - reservations required on the online ticketing site
Wednesday March 29 at 7pm - Salle Pablo Neruda in Bobigny with Ostrakinda and the Tribu éphémère "Le bruissement des pistes
Sunday April 2, 2023 at 5pm at the Pôle Musical d'Orgemont in Epinay-Sur-Seine with the SONORA MAZURÉN
Friday April 9, 2023 - 8:30 pm at La Marbrerie in Montreuil with B. COOL-AID
Friday April 21 - 8:30 pm at l'Embarcadère - Aubervilliers with The Silhouettes Project and Emicida
Closing of the festival on April 21, 2023 at 11pm at La Dynamo with DYNAMO CLUB #2
La Dynamo de Banlieues Bleues à Pantin
L'Embarcadère - Aubervilliers
L'Odéon - Tremblay-en-France
Espace Paul Eluard - Stains
Ciné 104 - Pantin
Centre culturel Houdremont - La Courneuve
Espaces V - Villepinte
Maison du Peuple - Pierrefitte sur Seine
Pablo Neruda Hall - Bobigny
MC93 - Bobigny
Espace 93 - Clichy-sous-bois
Espace 1789 - Saint-Ouen
To plan your visit, check out the website of Banlieues Bleues Festival.
Book my concert ticket Banlieues Bleues (French)
Other festivals in April in Paris.