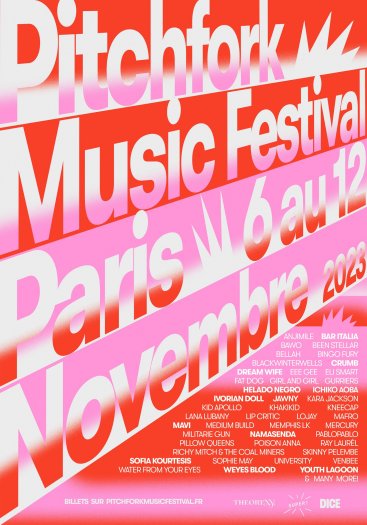 The Pitchfork Music Festival Paris proposes again a "Marathon" festival in all Paris. From November 6 to 13, 2023, the festival will take place in several mythical Parisian venues. On the bill, many bands of the international independent scene not to be missed. A very rich program with many artists of various musical genres.
The Pitchfork Festival Paris
About 60 artists are expected. The concerts will take place at the Café de la Danse, the Gaité Lyrique, the Trianon, La Place and the Eglise Saint-Eustache for several evenings of new concerts in 11 venues in the capital.
Pitchfork Avant-Garde offers a discovery tour in the Bastille district: artists will perform each night at Café de la Danse, Badaboum, Supersonic Records, PopUp, Disquaires and Supersonic.
Pitchfork Festival 2023 line-up
Monday November 6 at Trabendo : Dream Wife / Pillow Queens / Been Stellar
Monday november 6th at Saint-Eustache church : Youth Lagoon
Tuesday, November 7th at Petit Bain : Namasenda / Blackwinterwells
Wednesday November 8th at La Salle Pleyel : Weyes Blood / Ichiko Aoba...
Wednesday November 8th at Trabendo : Crumb / Helado Negro / Pablo pablo
Wednesday November 8th at La Place : MAVI / Bawo...
Thursday November 9th at La Place : Ivorian Doll, Lojay, Bellah
Friday, November 10 - Pitchfork Avant-Garde Day 1 : Anjimile / Eee Gee / Eli Smart / Fat Dog / Gurriers / Kara Jackson / KneeCap / Mafro / Medium Build / Memphis LK / Ray Laurel / Richy Mitch & The Coal Miners / Skinny Pelembe / Sofia Kourtesis / Water From Your Eyes...
Saturday, November 11th - Pitchfork Avant-Garde Day 2 : Bar italia / Bingo Fury / Girl and Girl / Jawny / Khakikid / Kid Apollo / Lana Lubany / Lip Critic / Mercury / Militarie Gun / Poison Anna / Sophie May / University / Venbee...
Tickets and passes for the Pitchfork Music Festival
Passes will be on sale soon (per day or 3 days pass).
Consult our pages on "where to eat, where to sleep" to find a restaurant or a hotel near La Grande Halle de la Villette during the festival.