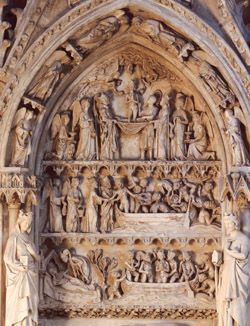 The Cathedral Basilica of Saint-Denis is one of the first masterpieces of gothic art and the largest funerary monument museum in the world.
Most important recumbent effigies in Saint-Denis
The tomb of Dagobert, the funerary statue of Isabella of Aragon, the funerary monument of Charles V and Jeanne de Bourbon, the tomb of Louis XII and Anne de Bretagne, the tomb of Francis I of France and Claude de France, the tomb of Henri II and Catherine de' Medici, Louis XVII' heart gather a unique collection of effigies of the most important figures of French history.
Among the 70 recumbent effigies and tombs of Kings and Queens buried in the Basilica of Saint-Denis, discover the Merovingian, Carolingian, Capetian, Valois, Valois-Angouleme and Bourbon dynasties. The basilica also displays the heart of Louis, son of Louis XVI of France and Marie Antoinette.
Recumbent statues not to be missed