Henry II, king of France from 1547 to 1559, and his wife Catherine de' Medici. Valois-Angoulême dynasty.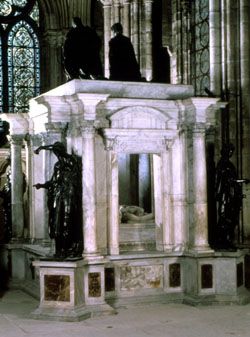 Henry II, king of France (1547-1559), husband of Catherine de' Medici and father of Francis II of France, died prematurely following a tournament in the Place des Tournelles in Paris, now the Place des Vosges. The queen ruled through her three sons for many years without ever putting aside her mourning dress. In Saint-Denis, to the north of the abbey, she had an immense rotunda 30 metres in diameter built to accommodate the sepulchre of her husband and his family, the Valois. The mausoleum's plan followed the shape of tombs from antiquity and is today recreated in the Jardin Pierre de Montreuil adjoining the Basilica. However her plan, drawn up in the middle of the Wars of Religion, never came to full fruition. The "Valois Rotunda" was demolished as a "threatening ruin" in the early XVIIIth century as the request of the monks of the abbey.
The tomb of Henry II and Catherine de' Medici, constructed between 1560 and 1573 and positioned at the very centre of the rotunda, is now to be found inside the Basilica. The greatest artists of the Renaissance worked on the project including Primatrice, the Italian sculptor Ponce Jacquio and the Frenchman Germain Pilon. The monumental construction is enlivened by marble in various colours, a practice inspired directly from the new spirit emanating from Italy. What hold the most attention are the monumental bronze Virtues at the four corners of the tomb, a striking example of the mannerist style in art.
Once the sculptors' work was finished, Catherine de' Medici judged her fixation to be too macabre and emaciated. She refused to accept it and commissioned a second one, which can be seen in Saint-Denis. The first one was presented to the Louvre and contrasts sharply with the version in Saint-Denis, which depicts the queen in a gentle sleep and is said to have taken its inspiration from a Venus in the Uffizi in Florence.
The two effigies of Henry II and Catherine de' Medicii in a chapel in the northern chevet, sculpted wearing their coronation robes, have their eyes wide open and can be seen as marble replicas of those funeral effigies with faces of wax made for royal funerals.
Henri II & Catherine de' Medici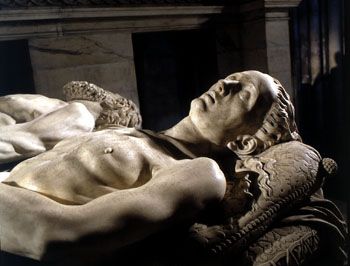 This representation depicts Catherine de' Medici and Henry II more at peace than Louis XII and Anne de Bretagne. P.Lemaître © CMN.