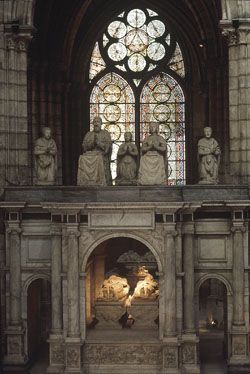 Francis I, king of France from 1515 to 1547, and his first wife Claude de France. First king of the Valois-Angoulême dynasty.
The tomb of Francis I, his wife Claude de France and three of their children was built in 1558, around ten years after the king's death.
The desire of Henry II, the son of the deceased king and the one who commissioned the tomb, was to ensure the memory of the knight-king and chief of the armed forces by offering praise for the famous F, where he was victorious at the age of 20. What is striking is the supreme documentary precision in the bas-relief tracing the 1515 battle, which took place near Milan. It details several episodes: the preparations, the crossing of the Alps and the confrontation of the two armies. At the head of the French army and German mercenaries, Francis I as a knight on horseback, recognizable by the monogram F on the saddle of his horse, at his side Baillard the knight facing a coalition made up of Italians, the pope's troops and Swiss forces.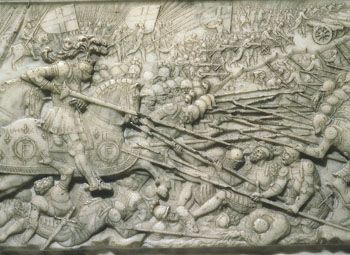 Francis I of France : Detail of bas-relief
Bas-relief picturing the Battle of 1515. The detail represents Francis I of France as Knight, is recognizable by its monogram F inscribed on the saddle of its horse. This section is located on the front of the monument. P. Lemaître © CMN.
Inside the tomb, the royal couple are depicted life-size with striking realism. Francis I of France was almost two metres tall. On the upper tier, the kneeling sovereigns are accompanied by three of their children. They express hope in the Resurrection but also the family character of the mausoleum.
The urn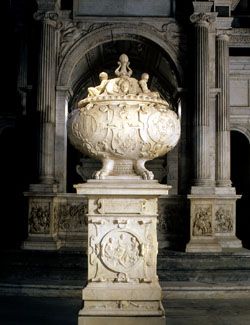 The king's heart and entrails were interred in the abbey at Hautes-Bruyères near Rambouillet, The practice of evisceration was to survive until the XVIth century, continuing the ancient practice of placing heart and entrails in funerary urns. The urn carved by Pierre Bontemps, which is now to be found in the Basilica, celebrates Francis I of France as a patron and protector of the arts. The cartouches forming the decoration depicts Architecture, Geometry, Sculpture and Painting. Also to be found is the king's emblem, the salamander, a symbol of courage and eternity.