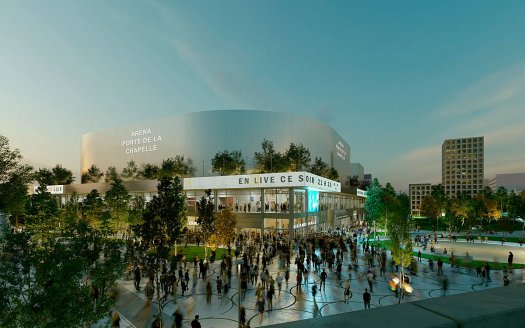 Created specifically to host the 2024 Olympics, theAdidas Arena, located at Porte de la Chapelle in northeastern Paris, opens its doors to the public in February 2024. A concert-competition hall with a capacity of 8,000 seats (and 9,000 seats in concert mode) as well as two gymnasiums, intended for schools and leisure sports located nearby, will make up this new site of Greater Paris.
The Adidas Arena is therefore under construction to become a new cultural and sports venue accessible to all. The large hall will offer concerts and shows, but also national and international sports competitions (MMA, E-sport, Adidas Basketball, Handball, etc.) and various exhibitions. The aim of this new site is to alternate between culture and sport on a 50/50 basis.
In addition to the competition-concert hall, the Adidas Arena is composed of other spaces open to all:
The Square (the forecourt) which includes the entrance with various green leisure areas
The Block, which is intended to be a place of activities and services throughout the day (shopping, games, DJ sets, etc.)
The restaurant
The greenrooftop located on the roof of the Bloc, which will give a view on Paris and will propose a bar-restaurant service as well as a basketball playground.
It should also be noted that Paris Basketball will become a resident of the premises. The trainings and the games of this team will take place in the Adidas Arena.
Extra info: the Esplanade in front of the Arena will be named Alice Milliat, in honor of this pioneer of women's sports.
The Adidas Arena program
The first concert is scheduled for May 3, 2024 with the rapper ZOLA.
During the Paris 2024 Games, the Adidas Arena will host the badminton and rhythmic gymnastics events, followed by para-badminton and para-weightlifting.
visual :© SCAU / NP2F
How to get to the Adidas Arena Paris Porte Chapelle?
There is a parking lot with 200 spaces (with electric plugs for fast charging). However, it is strongly recommended to take public transportation. Line 12 (which serves the Paris Saint-Lazare and Montparnasse train stations ) and TramT3b provide easy access to the site.
What hotel near the Adidas Arena?
You can book a hotel room at Porte de la Chapelle or a hotel near line 12 of the Paris metro.
Want to stay in Paris and find accommodation?