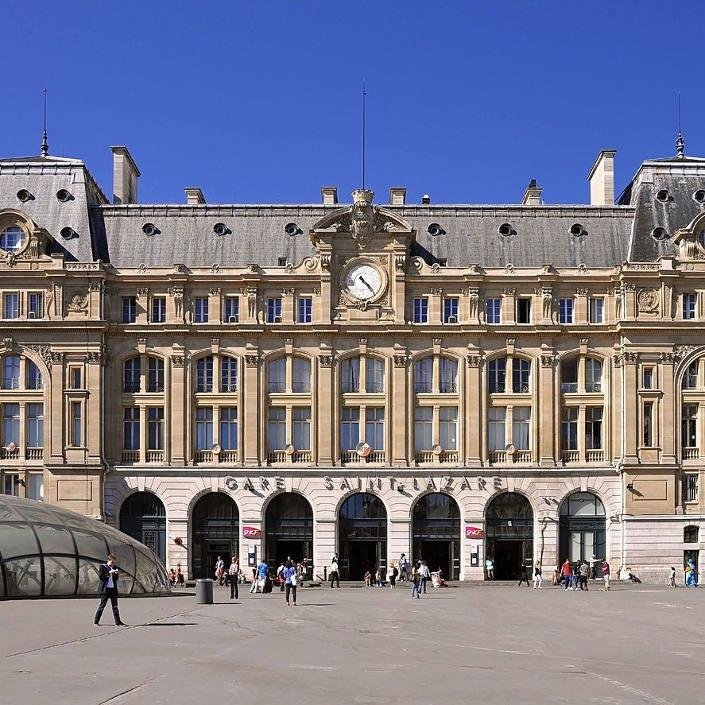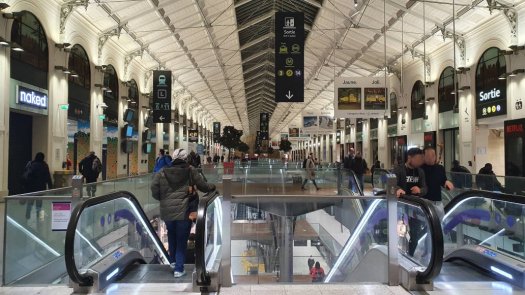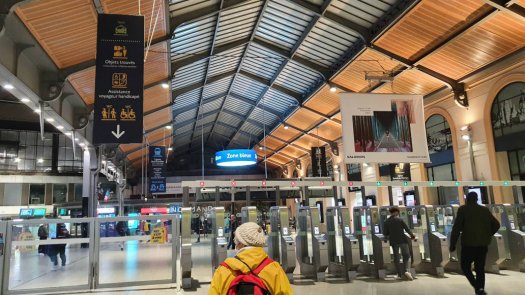 The station of Paris Saint-Lazare is the line also known as Normandy. It serves the cities of Le Havre, Caen, Rouen, Cherbourg,... You can also take the Transilien J and L lines which serve the cities of Versailles, Argenteuil, Conflans Sainte-Honorine, etc. The Saint-Lazare train station is open every day from 5am to 1am.
A coworking service is available for 1 hour. Several fast food services, stores are open. There is no locker in this station (the closest one is Gare du Nord).
The lost and found office is located near platform 27
Disabled persons reception near platform 27
Toilets near platform 27 (also accessible to PRM)
Transportation and parking at St-Lazare
There are three parking lots where you can park your car or motorcycle: 1 station parking lot at 20 rue de Rome - Paris 8 and 2 Effia parking lots further away at 29 rue de Londres - Paris 9 (all paying).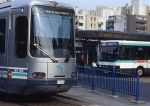 The subways and the RER are located on level -1. Escalators and elevators allow you to access the TER "Normandie" and Transiliens platforms. These two areas are separate and you need your ticket to enter.
RATP buses at Gare Saint-Lazare and Noctiliens: rue St Lazare and Cours de Rome.
Bus 20 : Direction Porte des Lilas,
Bus 28 : Direction Paris Montparnasse,
Bus 32 : Direction Paris Gare de l'Est,
Bus 43 : Direction Paris Gare du Nord,
Bus 66 : Direction Opéra and Direction Mairie de Saint-Ouen / Clichy.
The Noctiliens are night buses that operate when the metro is closed (from 0:30/1:00 to about 5:00)
Metro : ligne 3 (Bagnolet, Opera, Porte Champerret), ligne 9 (Mairie de Montreuil, Havre-Caumartin, Trocadéro, Parc des Princes), ligne 12, et ligne 13 du métro parisien (Montparnasse station, Invalides, Champs-Elysées, Carrefour Pleyel, Saint-Denis Basilica)
RER E
Transilien J (Ermont-Eaubonne, Vernon, Evreux) and Transilien L (La Défense, Versailles, Nanterre Université, Marly,...)
Line 14 - Metro
Line 14 is a driverless metro. It connects easily with major sites such as Gare St Lazare and Gare de Lyon, as well as Châtelet (RER access), Madeleine, St Ouen, BNF, etc.
As part of the work on line 14 towards Orly airport and Saint-Denis Pleyel, the line will be completely closed.
Consult the RATP website.
Of course, alternative solutions exist: metro line 3, line 13, RER E and buses.
Which metro from Gare Saint-Lazare to Stade de France?
The easiest way is to take the metro line 13 towards St-Denis Université and get off at the Basilique Saint-Denis station, walk about 10 minutes to the Stadium.
Problems on metro line 13? Take line 14 (automatic metro) to Châtelet then RER D to Stade de France St Denis station and walk for about 10 minutes.
Journey between Paris St Lazare and Paris le Bourget ?
Metro Line 12 to Porte de la Chapelle station then bus 350 to Le Bourget Exhibition Center or Air ans Space Museum.
From line 12 you can go directly to the Adidas Arena Paris Porte de la Chapelle to watch an event of the Olympic Games 2024, a concert or a match.
Which metro between St Lazare and Montparnasse?
To reach both stations take the metro line 13 to Montparnasse-Bienvenue station - 7 stations. It takes about 20 minutes.
How to go from Saint-Lazare to CDG or Orly ?

Take the RER E and get off at Magenta and then take the RER B to Gare du Nord. Then head north to CDG Airport.
Head south to Antony station (towards St Rémy-les-Chevreuse) to reach Orly via the OrlyVal shuttle.
You can also take the automatic metro Line 14 to Châtelet then take the RER B towards either Charles de Gaulle airport (CDG 1 or CDG2) or Saint-Rémy-les-Chevreuse and get off at Antony to get to Orly airport (via the OrlyVal).
In case of problem on the RER B you can take the bus 26 (direction Nation) and get off at the station Lafayette Gare du Nord. Enter the station then go to the basement to take the RER B and take the south direction for Orly or north direction for Charles de Gaulle airport.
Hotels near the Gare St-Lazare ?
Let yourself be tempted by the hotels that have access to the metro line 13 either in Paris or in the suburbs. Hotels at Porte de Clichy (tram, metro) allow you to find accommodation that may be cheaper than in Paris. Browse the list of hotels near a line 14 station (RATP metro).
What to visit while waiting for your train ?
The Chapelle Expiatoire in Paris
The stores such as Le Printemps (free or guided tour) and the Galeries Lafayettes.