Summer often brings organized activities including Graffiti Art Events. Canal de L'Ourcq summer festival boasts some of the most fabulous large-scale post-operative natural graffiti exhibitions.
Popof's dedication to painting of  a "Cathedral of Graffiti" in 2012 and JR, the French street artist known for his large-scale-photography, "Inside-Out" in 2013.  This summer too, the canal will once more be the scene of graffiti makers as it hosts the urban graffiti Art festival.
Urban Art on the Canal de L'Ourcq - Art festival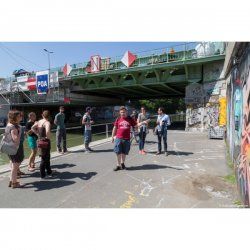 This summer during the festival, thirty urban artists will perform their art on the banks of the canal with a common mission: Play with the town.
Each artist will be able to realize and create his own art on one of the town's street furniture: panel signs, telephone booths, chimneys, doors, electrical panel-boards, posts, steps, façades… An exhibition of inspired creations of the Ourcq's environment will be scattered along the banks of the canal. Most of the graffiti creations will be done directly in front of the visitor. It will be an invitation of unexpected emotions to eye-witness the artist's universe and his creation. This project aims to make art that will inspire people to stop and pause and perhaps question the transformation of the town they know so well.
Depending on their size and large-scale scope, each artwork will be scattered all along the canal to surprise the walker on a street corner or over a bridge… This original project can be seen this summer over 10 km along the banks spanning from La Rotonde in Stalingrad in the 19th District of Paris to Aulnay sous Bois.
Developed in line with the Association Art Azoï, a group of street artists use their own original art to unveil an extremely rich and diverse artistic programme. An overview of these masterpiece artworks shows the full scope and multiplicity of urban art projects. Whether it is through the artist's technical skills (artwork, stencil, paint, or showcasing), their speech and style, it all features their own highly original characteristics.
The trail will reveal the remarkable artwork of thirty artists to be discovered or re-discovered, all of them renowned for their progressive street art in the imaginative world of art ethos.
Skilled artists: Artof Popof . Cristobal Diaz . Da Cruz . Dan 23 . Derlon . Dize . Djalouz . Erol . Eyone . Frez . Jace . Jacques Villeglé . JBC . Lapinthur . Le MoDuLe De ZeeR . Le Cyklop . Levalet . Marko93 . Medra . Oak Oak . Olivia De Bona . Ox . Romain Froquet . Seth . Surfil . TetaR . T.O . Thom Thom . W.A.Y.L.A
CANAL DE L'OURCQ - A POSTCARD PARIS DECOR
Canal de L'ourcq offers artists different supports and environments to present a postcard vision of the canal, venturing up the river through landmarks, urban territories, industrial zones, county parks and residential areas.
Thanks to recent renovations and large-scale rebuilding of the city, the banks have become a favored place for Parisians to relax and chill out and for tourists that yearn for a more unusual place to visit
Canal de L'Ourcq represents a powerful symbol in the territory:  a perpetual steady and fascinating transformation of previously abandoned industrial areas into a major focus of new northeastern districts devoted to the inhabitants and business class people.
Canal de l'Ourcq is the hyphen between Paris and its suburbs with the "Grand Paris scheme project". It links Paris and its suburbs exceeding the symbolical peripheral boundaries of Paris.