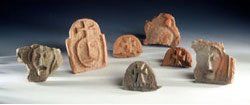 Research carried out by the archaeology unit has also revealed the existence of a surprising architectural setting on the fringes of the funerary site, made up of a succession of funerary churches and a palace linked by galleries.
Elements of a polychrome chancel belonged to the first enclosure set up around the tomb of Saint-Denis. Fragments of stucco and painted coatings displayed in the showcase are related to the ancillary churches.
Under the first Carolingians, the church became an abbey ; it was rebuilt, between 769 and 775, based on a plan analogous to the paleochristian basilicas of ancient Rome. Excavation work carried out by the American Sumner McKnight Crosby revealed impressive cubic foundations in the nave. This type of foundation supported twisted fluted columns the fragments of which, uncovered during excavation, were made of Synnada marble, a quarry that was mined in Antiquity near Afyon in Turkey.
For monumental decoration the Carolingian sculptors used a series of very different forms mixing very detailed foliage motifs with acanthus leaves rinceaux based on antique models.
Towards the end of the 10th century, the abbey was reformed by a monk from the abbey of Cluny, Odilon. It was perhaps on this occasion that a part of the community settled in Saint-Paul's church situated to the north of the basilica. The building was then reconstructed based on a basilical plan that, because of its size, seemed to measure to the abbey.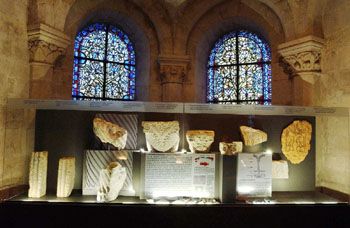 Space dedicated to the Carolingian group of monuments on the occasion of the exhibition Basilique Secrète. Radiating chapel in the crypt © P. Cadet - CMN.