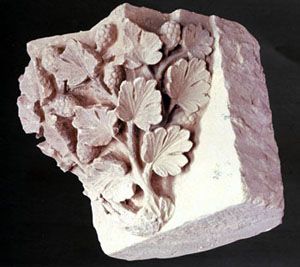 The cloister, south of the Saint-Denis basilica, sheltered right up to its reconstruction in the 18th century, one of the most original sculpted displays of the medieval West. This construction formed the heart of community life for the monks.
Recent excavations carried out here have revealed a quantity of glazed terracotta tiles attesting to the the presence of sumptuous polychrome pavements. Some mosaic-like tiles are joined together to form a fleur-de-lys.
The Maison d'éducation de la Légion d'honneur owns a sculpted console of a remarkable grapevine ; this piece found during restoration work could have belonged to the medieval refectory reader's pulpit.