Blanche of France, Duchess of Orléans (1328 † 1393), daughter of Charles IV of France and Jeanne of Evreux.
Blanche of France, daughter of Charles IV of France born after his death, lies in the Notre-Dame la Blanche Chapel in the Basilica of Saint-Denis next to her father, as she requested it.
She was married to Philip of Valois, Duke of Orléans, her cousin, whom she never had childrens with.
Her recumbent effigy had been made when she was still alive, in 1390, by two well-known sculptors, Jean de Liège and Robert Loisel, in a typical funerary art tradition way.
While the body of Blanche of France was buried at the royal abbey of Saint-Denis alongside her sister Marie, the entrails were buried at Pont-aux-Dames, an abbey that the royal family supported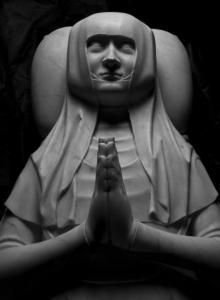 Blanche of France © Jean-Christophe Ballot - Centre des monuments nationaux.