For villages located around Paris, the 14th and 15th centuries were synonyms of catastrophies: starvations, epidemics, the Hundred Years' war and the civil war were part of the peasants' lives which destroyed villages and places of worship.
Moreover, several impressive floodings from the overflowing of the Seine and Croult river damaged the basilica and the monastery during 1206, 1286, 1657, and winter of 1764-1765.
The Armagnac, the Burgundian and the Fronde parties invade Saint-Denis
Because the abbey was plundered several times during the 15th and 16th centuries, the recumbent effigies altars suffered a lot of damages. The civil war starting from 1407 opposing the Armagnac and Burgundian parties caused plundering in villages and churches.
During the Fronde wars (1648 – 1653), the royal troops and the Condé ones fought a skirmish battle. On May 12th in 1652, the King's troops attacked some frondeurs who took refuge in the church towers and destroyed them.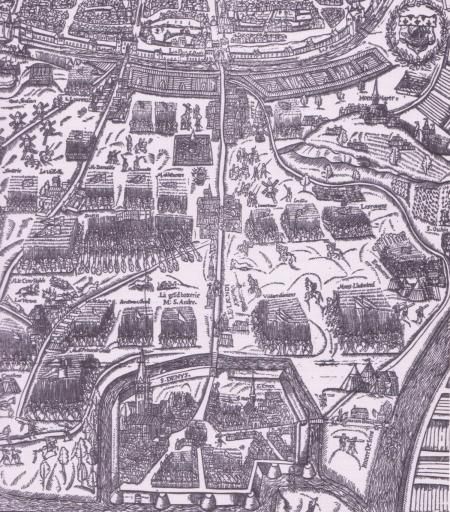 La Bataille de Saint-Denis (November 10th 1567)
Illustration from the 'paper' printed in Lyon by Jean Le Maistre.
The transformation of the liturgical space
During the 17th century, the inside of the basilica underwent modifications, additions, extensions and the liturgical space was modified several times. In the first half of the century, the major altar was demolished (in 1610) as well as other lateral ones (from 1626 to 1628).

"La ville et mémorable abaie de Sainct Denie",
Engraving from the beginning of the 17th century from Claude Chastillon
1771: Year of the major clean-up of the basilica
During the second half of the 18th century, the clergymen asked for external work, particularly for the facade restored in 1771. The saints made of rock located between the arch columns were taken off to not be destroyed by the Revolutionnaries. Then, the forecourt was demolished and rebuilt.
The 1771 year is important because two Italian brothers, Pierre and Dominique Borrani, restaured the inside of the church as the same time as the inside. The internal whitening of the church which started in April was done in August. The two brothers used a simple and fast method consisting in using a scaffolding that they built and rebuilt as the progress of the work.
All the railings from the choir, the chapel and the nave were painted in black as the different ballustrades. The old stalls (chairs or benches with high backs located in the choir where the clergymen sit during the service) were demolished in 1781 and replaced by a modern wooden furniture.
On the occasion of this major clean-up, two whale ribs hanging above the organ door were taken off. Measuring around 21 ft, the whale bones had been placed here just for curiosity!
Discover the story of the reassembly of the Saint-Denis spire.