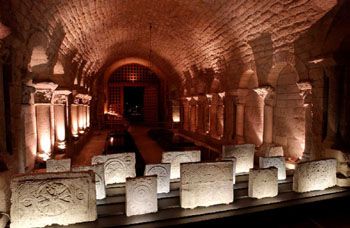 From the end of the 6th century, a necropolis began to emerge north of the basilica. Excavation work carried out by the Saint-Denis archaeology unit made it possible to study more than two hundred sarcophagus, but one can suppose that this funeral site originally held more than two thousand. This exterior necropolis constituted plaster sarcophagus. They were mass produced with the help of a wooden frame in which the plaster was then poured. The motifs engraved in the wood produced relief decorations.
Except in very rare situations, the funerary objects placed in these tombs cannot be compared to the jewels of high ranking officials buried in the basilica ; but they are proof of a less privileged population thus giving more information about what daily life was like during the Merovingian era. Usually the deceased were laid to rest with knives, razors, cutting tools, tweezers, keys, lighters and silex to make a fire. All these metal objects are proof of great mastery in metalwork such as damascus steel and bronze casting. Terracotta molds are proof of buckle-smelting activity within proximity of the necropolis.
Thanks to technological progress, it is possible to reproduce the shape of a scramasax sheath (short sword) even though the original leather one had completely disappeared. These works of conservation and restoration are carried out by professionals and students – at the Saint-Denis archaeology department that houses a restoration laboratory (utica) and practical work carried out by students in conservation-restoration at University Paris 1, MST degree level (Masters in technical sciences)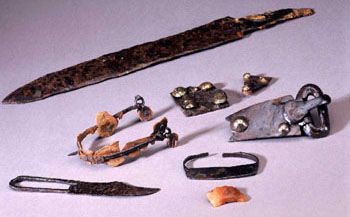 Tomb of an armed man (1st half of 7th century) ; necropolis around the church saint-Barthélemy, excavation UASD. © J. Mangin - Saint-Denis archaeology unit.