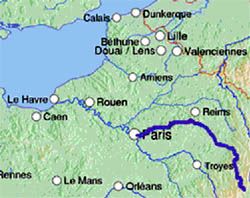 The Marne (East of the Paris Basin) is the longest river in France: 525 kilometers. It takes its source at Langres and Baslesme-sur-Marne and flows into the Seine at Charenton-le-Pont, Alfortville and Ivry-sur-Seine (Val-de-Marne).
With an oceanic influence and a pluvial regime its maximal flow is observed in January and its minimal flow in August. The Marne is navigable over 183 km and is canalized over a distance of 327 km. Locks (approximately twenty) are 45 m by 7.80 m at least and widen on arriving at Charenton.
Check out our summer cruise on the Marne River
And in the South of Seine-Saint-Denis La Marne continues to flow…

Neuilly-sur-Marne
Under the reign of Napoleon III (from to 1848 in 1862) the Marne was converted for canal transport between Neuilly-sur-Marne (Seine-Saint-Denis) and Vaires-sur Marne (Seine-et-Marne) to avoid difficult routes, time and money, to reach the Seine at Charenton: the Chelles canal.
The bridge of 'Goujonnette' on the canal connected Vaires to Neuilly-sur-Marne and horses pulled a barge. It was a maintained towpath (nothing separated the path from  the water - trees and bushes gave way to horses and guides). The river became a more tranquil place with the emergence of boats, open-air dance halls (French Guinguettes) and the arrival of painters!
The "bar de la Marine" situated on the banks of the Marne is a modest building which was in fact a former open-air dance hall built by 1880.
1892 - The 1st bridge was created to cross the Marne and pass between Neuilly-sur-Marne and Noisy-le-Grand: it was the end of boatmen and ferryboats.
The natural site of the park "Haute-Ile" is protected. This park is rich in fauna and flora, in environmental history and archaeology.
Noisy-le-Grand
Discover the cycle trail via Marne's guinguettes, from Noisy-le-Grand to Joinville le Pont