Itinerary 4
Distance: 18 km (11 miles)
Duration: 2h
Useful and practical information: This itinerary starting at Noisy Le grand runs along the Marne river banks but continues on cycling facilities where it is shared with scores of pedestrians' and dog walkers. Enjoy your cycling trip and ensure your safety and those of the road users. This track reveals several "guinguette" and off-beaten track splendors.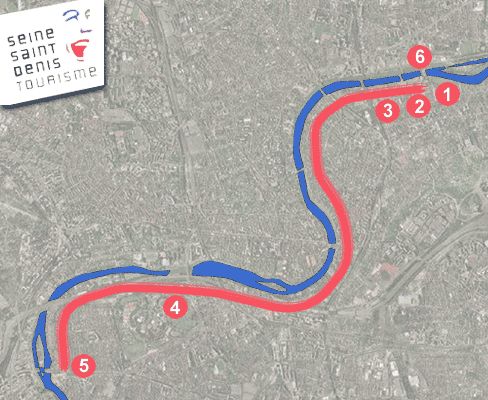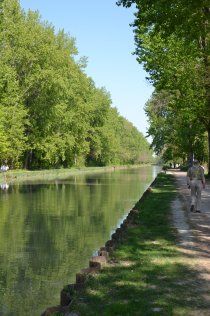 1. Arriving in Noisy-le-Grand, for an adrenaline cycling packed day, make your way to the restaurant la Pergola, a guinguette-open air dance café. Start your cycle trip from there and follow the bicycle lane all along the peaceful banks of the river Marne. 
2. Arriving at the level of Pont de Neuilly, you can discover the guinguette- le Martin Pêcheur on the other banks, the opened-air dance French café located in Neuilly sur Marne.
3. On the left hand side, you will have the opportunity to discover the industry of water production, an ample water supply for almost one and a half million in Ile de France region.
4. Continue your way to the bridge of Nogent sur Marne located a stone's throw away from the park of Tremblay, the perfect place to stop for a break or a healthy picnic in the off-beaten track of fauna and flora around Ile de France.
5. Follow the route which leads you to Joinville Le Pont, you will reach the guinguette Chez Gégene et La Goulue, where you can soak up the olden days aura and atmosphere.
6. Enjoy the 9 km, cycling back and discover the charm of the region and appreciate the Marne or you can stop your cycling trip there and make your way back to Paris using the French public transport RER A.
More cycle trail itineraries to explore
Cycle trail along Canal de l'Ourcq from Paris bassin de la Villette (itinerary 1)
Bucolic rural ride along Canal de l'Ourcq, from park de la Poudrerie to Claye-Souilly (itinerary 2)
Discover the cycle track along Canal Saint Denis, from Paris La Villette to Stade de France (itinerary 3)