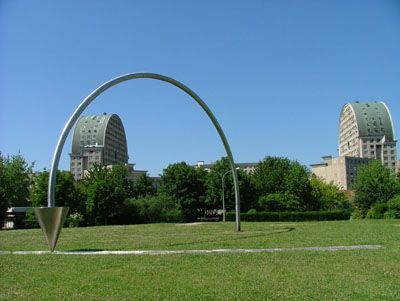 Ricardo Bofill and Manolo Nunez shaped the new Noisy-le-Grand, a town home to "Noiséens", and a charming stopover town between Disneyland and Paris.
The origin comes from either the French word "noyers" meaning walnut which makes up a part of the forest, or from the celtic word "nois" meaning height because of the geographical location of the place. The history of Noisy Le Grand began with the assassination of Chilpéric, the son of Clovis in 581. It was a monastic domain until the eighteenth century. During the revolution, the territory of religious orders spread from Saint Sulpice Church which dates from the twelfth century to rue du Docteur Sureau who died in 1884.
Discovering ancient architecture and modern buildings
Until the early twentieth century Noisy remained a quiet village with farmers and winemakers. Streets names still evoke this wine-making past in the city: rue du clos, chemin d'Ambert, chemin du clos Saint-Vincent. The introduction of the tramway to the town in 1900 contributed to the development of the city. The successive arrival of the bus, train and RER accelerated its growth. From 1965 on, Noisy was to combine ancient architecture and modern buildings.
In the neighborhoods Mont d'Est and Pavé neuf, the internationally renowned architects, Bofill and Manolo Nunez designed the Theatre and the Palacio Abraxas and Picasso arena which are now used for several social housing projects and where Hunger Games was shot. You can find a certain modernity in Noisy revealed by constructions such as the mall "Arcades" and the presence of well-known industries in its region. The Mont d'Est business center, an essential core business activity in the Paris region, today generates numerous job opportunities and several hotels. Visit all the major places of Noisy-le Grand thanks to the PR27 hiking path (about 10 km).
Leisure and heritage visits in the city
Leisure : Espace Michel Simon, even Charlie Chaplin said that he was the greatest actor in the world. The media library includes many reference documents; Maurice Baquet music academy (Native of Noisy) the three "Maisons pour tous"( sort of French-club to help young people).
All year round it is possible to sign up for visits and tours (open-day company visits, architectural observations and cruises) in and around Noisy. The town Noisy le Grand blends harmoniously old and new. It is an economic hub of the new Town Marne la Vallée. Noisy has won the ambitious challenge of mixing the charm of days past with a positive standard of living today.
Still running! Don't miss the Christmas Market of Noisy Le Grand that will fill you up with christmas magic.
Related :