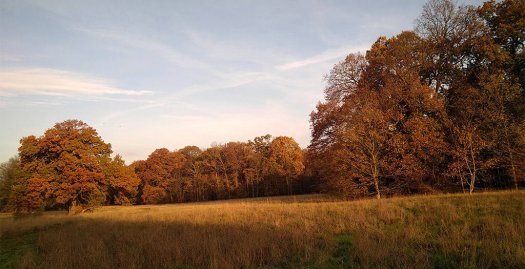 The Saint-Martin wood is part of the Maubué regional forest. It is located for a large part on the town of Noisy-le-Grand - 93 (Seine-Saint-Denis), Villiers-sur-Marne, Le Plessis-Trévise (94 - Val-de-Marne) and run along part of the woods Célie in Emerainville (77 - Seine et Marne). These different woods form the Maubué forest, which covers 634 hectares in all these towns.
You can enter Saint-Martin woods at Noisy le Grand and walk in the authorized alleys in these 280 hectares dedicated to biodiversity, to the preservation of fauna and flora. This explains why a part in the center of these woods is not accessible to the public. This former private forest is open to the public only since mid-November 2021 and is managed by the Agency of Green Spaces (Agence Espaces Verts - french website). It is an old oak forest (cassini map around 1750) which still retains some hundred-year-old trees and areas of meadows and ponds that must be protected. A decree dated August 17, 2021 allows to protect this exceptional biotope - fauna and flora (amphibians and plants specific to marshy environments) with therefore a stricter internal regulation than what we can expect in the other forests or parks around.
It is a place open only to pedestrians, joggers in this protected forest environment! Two-wheelers are not allowed (including bicycles). Animals are also forbidden, even if kept on a leash; only guide dogs accompanying the visually impaired are allowed. (Internal regulations on the AEV website). Download the map of Bois St Martin !
Great walking trail - country hikes of the Paris Region green belt - runs along Saint-Martin woods and Célie woods from north to south with an entrance at Emerainville (77) and a second one on rue de Gournay at Pontault-Combault in the south.
Where to find forests in Paris region ?
What are the hiking trails in Paris Region – Seine-Saint-Denis ?