Discover this cycle path along canal Saint-Denis from Parc de la Villette Paris to Stade de France.
Itinerary 3
Distance: 8.5 km
Duration: 50 minutes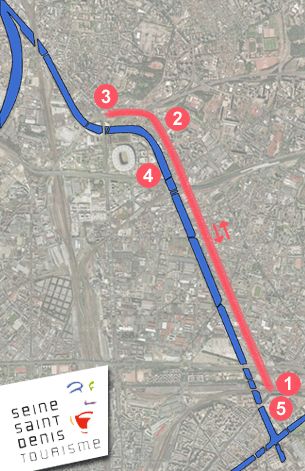 Useful and practical information: This 3rd itinerary runs through the right banks' cycle lane and continues all along  the canal. The recently new built bicycle routes and cycle lanes complete the urban cycle lanes and links Paris la Villette to the banks of the Seine in Paris.
1. Start your cycle itinerary from Porte de la Villette and join the cycle path situated on the right banks of Canal Saint Denis.
2. Cycle down the peripheral road, the borough of Aubervilliers is located 500m downtown.
3. Continue your way downtown all along the bicycle path till the end of the itinerary at the fifth canal locks level towards Porte de Paris.
4. Cycle back from there to the swing bridge, cross it to go towards the French stadium- Stade de France where the friendly multilingual staff will provide all their schedule editing quick tips for the stadium visit. They also offer helpful advice and information for all your essential tourist needs. Get some maps and brochures to guide you through the best spots of the communal surrounding towns and  Seine Saint Denis territory to guarantee the perfect holiday.
5. Take the cycle path back 4 km to the Porte de la Villette, your starting point.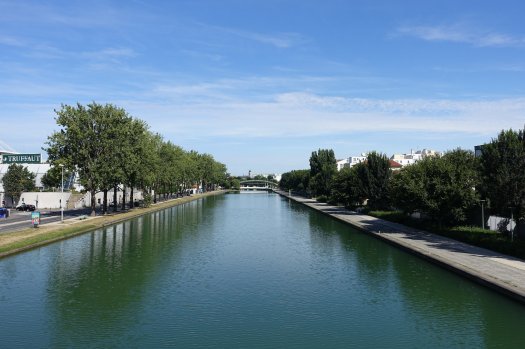 Examples of more cycle trail itineraries to explore during your bike tours
Cycle trail along Canal de l'Ourcq from Paris la Villette (itinerary 1)
Bucolic rural ride along Canal de l'Ourcq, from park de la Poudrerie to Claye-Souilly (itinerary 2)
Discover the cycle trail via Marne's guinguettes, from Noisy-le-Grand to Joinville le Pont (itinerary 4)