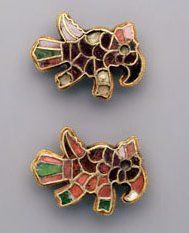 Documentation on pieces found in the necropolis comes, for the most part, from research carried out by Édouard Salin and Michel Fleury.
The bodies of the Merovingian aristocrats were laid in costly stone sarcophagus, decorated with crosses, a testimony of the success of christianism in the Merovingian era. The deceased - mainly women - were buried clad in lavish costumes decorated with golden embroidered braid trim, jewellery and gold and silver costume accessories. The jewels of Saint-Denis are particularly representative of the fervour of Frankish aristocracy for red garnets. Recent laboratory work has revealed that these precious stones came from India and Ceylon.
Nordic wildlife style, introduced into the Merovingian era during the 6th century, was also well represented in Saint-Denis. It was found on weapons or jewels reserved for the Frankish elite. Within the sacred universe of a basilica such as Saint-Denis, this iconography corresponded more to social expression, indeed political, of this minority of Germanic descent than to a survival of pagan beliefs.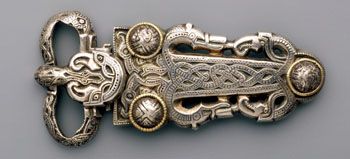 Buckle-plate with zoomorphic motifs (towards 600) ; tomb 9 excavations by M.Fleury. Preserved in the National Antiquities museum © J.G.Berizzi - RMN.